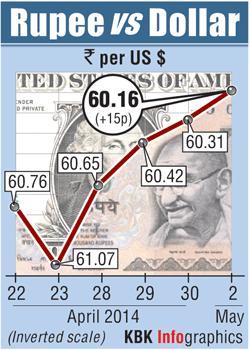 The Indian rupee rose to a three-week high on Friday, posting its first weekly gain in five, helped by dollar selling from state-run banks and tracking gains in regional currencies ahead of a key US jobs growth data later in the day.

The 0.7 per cent gain in the rupee this week came on the back of large dollar sales by corporates and banks and a recovery in Asian currencies, offsetting a net $1.5 billion in foreign investor selling in debt markets last month that had previously pressured the local unit.

Still, caution should prevail as the country inches closer to the final phase of elections, with the latest opinion polls showing that the opposition Bharatiya Janata Party and its allies were set to win a narrow majority in the 543-seat lower
house of parliament.
"The INR will be in a tight range of 59.50 to 61 with market eyeing the election results," said Ashutosh Raina, head of forex trading, HDFC Bank.
The partially convertible rupee closed at 60.16/17 per dollar compared with 60.31/32 on Wednesday, after rising as high as 60.09, a level last seen on April 10.
The currency got support from dollar flows into local equities and greenback sales from state-run lenders.
Investors are expected to focus on monthly U.S. jobs data later in the day, with U.S. employers expected to have added 210,000 jobs last month, according to a Reuters poll.
Traders cited little impact from data showing the HSBC Manufacturing Purchasing Managers' Index (PMI) held steady at 51.3.
In the offshore non-deliverable forwards, the one-month contract was at 60.49 while the three-month was at 61.23.