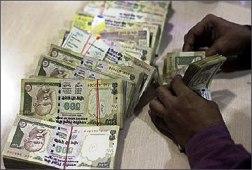 Rising for the second day, the rupee on Thursday appreciated by 16 paise to close at one-week high of 54.56 against the US dollar on hopes of robust capital inflows in view of a series of PSU share sales starting with RCF on Friday.

Continued dollar selling by exporters and some banks as also weak dollar overseas ahead of European Central Bank's monthly policy meet late today boosted the rupee, foreign exchange dealers said.

At the Interbank Foreign Exchange market, the domestic unit commenced lower at 54.87 a dollar from previous close of 54.72 and immediately touched a low of 54.91 on early hesistency in local stocks.

However, rupee later turned positive on late rally in local stock markets on the back of firm European opening and dollar selling by exporters and some banks to a high of 54.50 before settling at 54.56, a rise of 16 paise or 0.29 per cent.

On Wednesday, it had risen by 20 paise or 0.36 per cent.

"The rupee was seen appreciating
today against the US dollar.
"The gains were supported by the slight recovery in the Euro. "The positive closing in the Indian stock markets also lent support to the rupee. "Hopes of dollar inflows in the disinvestment of RCF scheduled tomorrow too supported the rupee," said Abhishek Goenka, Founder and CEO, India Forex Advisors.
The government's 12.15 per cent stake sale in Nalco is likely next week and 10.82 per cent disinvestment in SAIL may take place on March 20. The public offer to sell 12.5 per cent stake in Rashtriya Chemical and Fertilisers is scheduled to be launched on Friday.
Besides, stake sale in trading giant MMTC is expected to happen on March 14.
The Indian benchmark S&P BSE Sensex, which was moving in and out of positive terrain by over 60 points, finished higher by 161 points or 0.84 per cent on fag-end buying.
Foreign institutional investors infused over $130 million in Indian stocks today, as per provisional data.
The dollar index was down by around 0.15 per cent against a basket of six major global currencies.