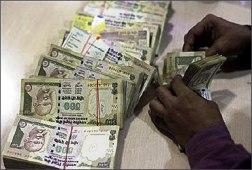 Breaking a two-day fall, the rupee on Friday strengthened by 34 paise to end at two-week high of 54.01 against US dollar on robust capital inflows linked to Nalco offer-for-sale and heavy selling of the American currency by exporters.

At the Interbank Foreign Exchange market, the rupee resumed strong at 54.15 a dollar from last close of 54.35 and moved in a range of 53.97 and 54.21.

It finally ended at 54.01, highest closing after February 27 when rupee had finished at 53.86.

Thus, the rupee clocked a gain of 34 paise or 0.63 per cent on Friday.

Banks and exporters preferred to reduce their dollar position at the current stage in view of sustained capital inflows coupled with weakness in dollar overseas, forex dealers said.

Though the Indian benchmark S&P BSE Sensex on Friday closed down by 142.88 points, FIIs pumped in Rs 1,018
crore in stocks.
The offer for sale in Nalco was oversubscribed, guaranteeing at least Rs 515 crore to government.
Globally, the dollar declined by 0.35 per cent against major rivals ahead of a slew of US economic data due out later in the global trading day.
Pramit Brahmbhatt, CEO, Alpari Financial Services (India) said, "The rupee spot had a gap up opening by 20 paise.
"It improved further taking cues from the dollar which traded weak against the major currencies mainly against the euro. The trading range for the USD/INR spot next week is expected to be within 53.70 to 54.30."
Euro was trading up 0.1 percent at $1.30, recovering from yesterday's three-month low of $1.29.
The bounce back in the Euro also helped rupee to gain today, said Abhishek Goenka, Founder & CEO, India Forex Advisors.