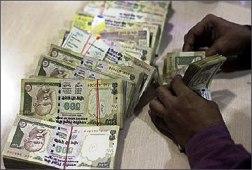 Even as stocks rose, the Indian rupee on Tuesday surrendered initial gains and closed six paise lower at 54.92 on late demand for the American currency from importers.

However, a smart rise in stocks and weak dollar overseas cushioned the rupee's fall to some extent, said forex brokers.

At the Interbank Foreign Exchange market, the domestic unit commenced better at 54.82 a dollar from previous close of 54.86 and shot up to a high of 54.61 due to a sharp rise in local equities and early dollar sales by exporters.

It later fell back sharply to a low of 54.93 before settling at 54.92, a fall of six paise or 0.11 per cent.

Across-the-board buying on strong global cues and indications of more sops by Finance Minister during the course of debate on Budget in Parliament lifted the BSE benchmark Sensex today by over 265 points -- its biggest gain in this calendar year -- to end at 19,143.17.

FIIs pumped in a net Rs 220 crore (Rs 2.2 billion) in Indian stocks, provisional data from stock exchanges showed.

Brokers said the forex market also reacted to Chief Economic Advisor to the Finance Minister, Raghuram Rajan's comments on current account deficit.

"CAD is our biggest concern right now because as you finance from outside, you are dependent on the interest of foreign investors.

"They've been supporting us so far due to the search for yields. But can we continue to rely on that forbearance?"

The dollar index, a gauge of six major global units, was down by 0.10
per cent as investors once again turned to riskier assets like equities and other currencies.
"A strong opening in the domestic equity market and strength in other currencies against the dollar overseas supported the rupee in early trade.
"There was dollar demand seen at Rupee's near 55 levels, which made rupee to ease against the US dollar," said Abhishek Goenka, Founder and CEO, India Forex Advisors.
"Globally, the Euro surged against the US dollar after the upbeat economic data of the Euro zone Service PMI and retail sales.
"The overall sentiment is poised with the speculation that the central banks are set for further monetary easing," he added.
On Monday, after falling below 55-level in early trade, the rupee washed out early losses to close three paise up at 54.86, snapping a two-session string of losses, on late dollar selling by some exporters and custodian banks.
Meanwhile, the premium for the forward dollar on Tuesday declined on receipts by exporters.
The benchmark six-month forward dollar premium payable in August finished down at 186-1/2-188 paise from overnight close of 189-191 paise.
Far-forward contracts maturing in February also ended weak at 348-349-1/2 paise from 352-354 paise.
The RBI fixed the reference rate for the US dollar at 54.6520 and for euro at 71.2092.
The rupee fell back sharply against the pound sterling at 83.28 from Monday's close of 82.49 and also reacted downwards against the euro to 71.59 from 71.29.
It also turned negative against the Japanese yen to end at 58.96 per 100 yen from previous close of 58.70.