Fresh selling of dollars by banks and exporters on the back of good foreign capital inflows helped the rupee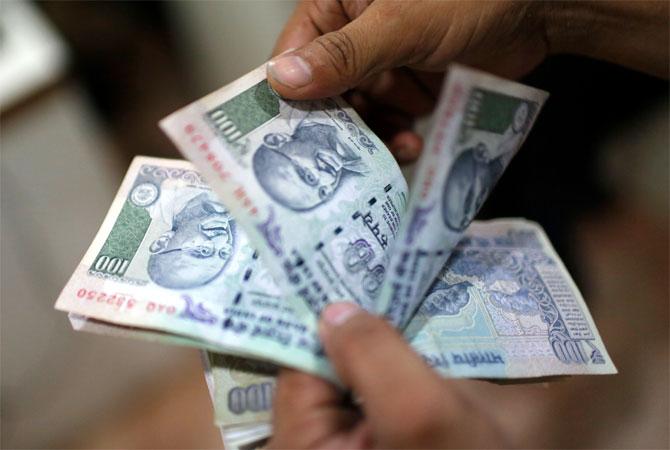 In line with equity market, the rupee, on Thursday, recovered by 6 paise to end at 67.39 against the American currency on fresh selling of dollars by banks and exporters on the back of good foreign capital inflows.
Foreign portfolio investors (FPIs) and Foreign Institutional Investors (FIIs) bought shares worth a net Rs 265.63 crore on Tuesday, as per provisional data released by the stock exchanges.
The rupee opened almost flat at 67.46 as against Tuesday's closing level of 67.45 per dollar at the Interbank Foreign Exchange (Forex) market.
The domestic unit hovered in a range of 67.51 and 67.34 per dollar during the day before ending at 67.39, showing a gain of 6 paise or 0.08 per cent.
The rupee had settled lower by 18 paise or 0.26 per cent on Tuesday.
Meanwhile, the RBI fixed the reference rate for the dollar at 67.4972 and euro at 74.8274.
In cross-currency trades, the rupee firmed up further against the pound sterling to finish at 87.81 from 88.67 on Tuesday and recovered against the euro to 74.65 from 75.27.
The domestic currency also moved down further against the Japanese yen to 66.68 per 100 yens from 66.26.
The US dollar index, which tracks the greenback against a basket of six rival currencies, was trading down by 0.05 per cent in the late afternoon trade.
The pound rebounded in the late trade today taking a breather after a steep drop that sent the currency to its lowest level in 31 years on concerns over the UK's vote to leave the European Union.
Pramit Brahmbhatt of Veracity Financial Services said, "The rupee opened very flat at 67.46/USD where it closed on Tuesday's trading session, on back of mix global cues from equity market as well as dollar index. Our benchmark index too traded in very narrow range in absence of clarity for further direction, thus Nifty closed with minor gain of 2 points at 8338.
"Maintaining support at 67.50/USD mark, rupee traded stronger for the day. Thus to end the trade rupee closed with an appreciation of 6 paise at 67.39/USD. Trading range for the spot USD/INR pair will be 67 to 67.50/USD."
In forward market, premium for dollar dropped further on persistent receivings from exporters.
The benchmark six-month premium for December moved down further to 192-194 paise from 198-200 paise on Tuesday while forward June 2017 contract also fell further to 389-391 from 396-398 paise.
Meanwhile, the benchmark Sensex recovered by 34.62 points or 0.13 per cent to 27,201.49.