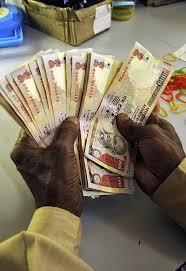 The rupee ended lower by 13 paise at 63.52 against the US dollar on fresh demand for the American currency from banks and importers on a higher greenback in the overseas market amidst fall in crude oil prices.
However, strong equity market restricted the rupee's fall to some extent, forex dealers said.
Oil prices fell in Asian markets on Monday as Iran and major western powers said they are closer than ever to a landmark nuclear deal that would lift sanctions and see Tehran's crude exports return to global markets.
The rupee resumed lower at 63.44 as against the last weekend's level of 63.39 at the Interbank Foreign Exchange market and hovered in a range of 63.40 and 63.53 before finishing at 63.52, showing a loss of 13 paise, or 0.21 per cent.
The dollar index was trading higher by 0.42 per cent against its major global rivals on Monday.
The euro traded mixed against its major rivals in the Asian market after Greece reached a long-awaited bailout deal.
After overnight talks, European Council president Donald Tusk said Eurozone leaders unanimously reached an agreement to unlock more funding for debt-burdened Greece.
The agreement eases the risk that Greece will be forced to leave the euro in a 'Grexit'.