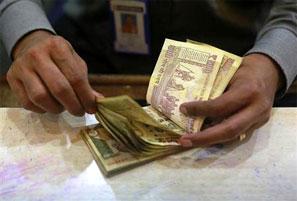 The Indian rupee slumped to a three-month low on Thursday, hurt by a rally in the dollar in global markets that helped spur state-run banks into buying greenbacks for corporate- and defence-related payments.

The partially convertible rupee fell to as low as 60.57 per dollar at one point, its lowest since April 29, when the currency was in the midst of a rally in the lead-up to the general elections.

The rupee declined 0.63 percent in July, marking its second consecutive monthly fall, despite foreign investor buying shares and debt worth just over $6 billion, as per official data.

Traders said the rupee had been hit by sustained gains in the dollar, which was trading at just below a 10-month high against a basket of major currencies.

Dollar bulls had taken heart after a report showed the U.S. economy rebounded sharply in the second quarter, although the Federal Reserve's affirmation of a broadly relaxed stance on the monetary policy tempered some of those
gains.
"The outlook for the dollar remains strong," said Anindya Banerjee, a currency analyst at Kotak Securities, a brokerage in Mumbai.
"The fate of emerging market currencies will be decided by the fate of the dollar-carry trade and what happens to the interest rates in the United States."
The rupee ended at 60.55/56 per dollar, down about 0.83 percent for the day, its biggest single-day fall since June 13.
Dealers cited heavy dollar buying from state-run banks, which they attributed to corporate-related needs as well as defense-related payments.
The end of the month is also typically marked by dollar buying from importers looking to meet trade commitments.
Some traders said the demand for the dollar had also been exacerbated as some investors unwound short positions on the greenback.
Shares also lagged, with the 50-share NSE index falling 0.9 percent to 7,721.30 after earnings in some blue chips failed to impress investors.
In the offshore non-deliverable forwards, the one-month was at 60.87/97, while the three-month was at 61.41/51.