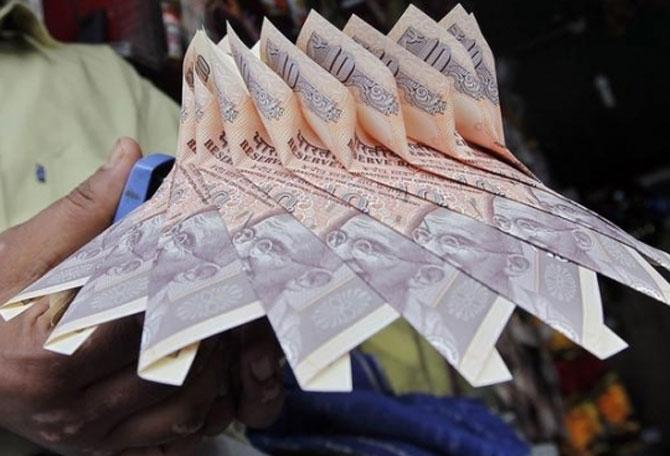 The rupee continued its downslide mostly throughout the week and today fell 10 paise to log a one-month closing low of 60.28 against the greenback on dollar demand from importers and rising global risk aversion.

Heavy capital inflows in local equities, however, restricted the rupee fall, said forex brokers. The dollar index, a gauge of six major global rivals, was almost stable with downward bias.

At the Interbank Foreign Exchange (Forex) market, the domestic unit commenced sharply lower at 60.41 a dollar from previous close of 60.18 and declined further to a low of 60.46 on initial weakness in local equities.

However, recovery in stocks and late dollar selling by exporters helped the rupee to recover to a high of 60.2450 before concluding at 60.28, still revealing a fall of 10 paise or 0.17 per cent.

This is its lowest since 60.39 against dollar on June 18. During the week, rupee has slipped 35 paise or 0.58 per cent. It has ended in negative terrain in four days of five. The Indian benchmark S&P BSE Sensex today rallied further by 80.40 points, or 0.31 per cent on surge in IT stocks.

FIIs picked up shares worth Rs 1,912.42 crore, as per provisional data. Pramit Brahmbhatt, Veracity Group CEO said: "Rupee traded weak for the day, as early morning Malaysian airlines jet got hit by missile on the Ukraine-Russia border which shocked the world and dented the confidence of investors. Strong local equities supported the rupee to fight back and recover slightly.

The trading range for the spot rupee is expected to be within 59.80 to 60.80.

"India's inflation, IIP and trade data was released in this week and all of them have been better than expectations. Today, rupee was seen approaching the levels of 60.50 amid geopolitical tensions. This led the investors to shift to safe haven assets leading to gains in the US dollar," said Abhishek Goenka, Founder and CEO, India Forex Advisors.

Meanwhile, the premium for forward dollar continued its downslide on persistent receipts by exporters. The benchmark six-month premium payable in December eased to 225.5-227.5 paise from last close of 227.5-229.5 paise.

Far-forward contracts maturing in June, 2015 also moved down to 469.5-471.5 paise from 473-475 paise. The Reserve Bank of India fixed the reference rate for dollar at 60.33 and for the euro at 81.5848.

The rupee fell back against the pound to 103.03 from overnight close of 102.90 while declined further to 81.55 from 81.41 per euro. It also remained weak to end at 59.49 per 100 Japanese yen from 59.33.