Persistent fall in crude oil prices affected the market sentiment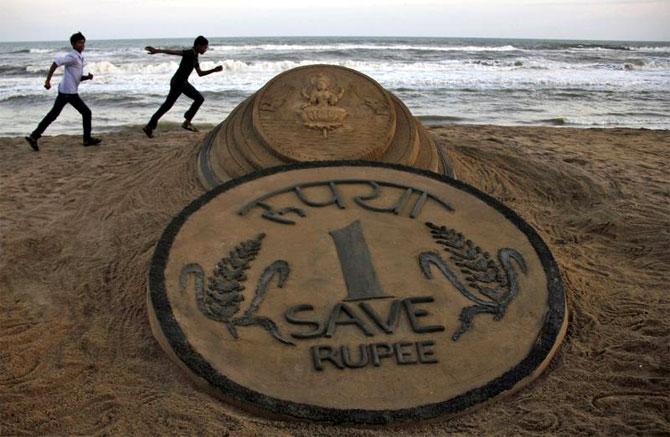 Extending losses for the second straight day against the American currency, the rupee dipped by 30 paise to fresh 28-month low at 67.59 on fresh dollar demand from importers in view of persistent foreign capital outflows amidst sharp fall in equities.
Persistent fall in crude oil prices also affected the market sentiment. Oil prices eased in Asia today, with the under-pressure commodity sitting around 12-year lows as dealers prepare for the return of Iranian exports to the market while the US stockpiles increase.
The rupee resumed lower at 67.35 per dollar as against yesterday's closing level of 67.29 at the Interbank Foreign Exchange (Forex) market and dropped further to a low of 67.71 before closing at fresh 28-month low at 67.59, showing a loss of 30 paise or 0.45 per cent.
It had last settled at 67.63 on September 3, 2013 and during the intra-day trade at 68.62 on September 4, the same year.
The local currency has lost 74 paise or 1.11 per cent in two days.
It hovered in a range of 67.71 and 67.24 during the day.
However, the dollar index was down 0.12 per cent against a basket of six currencies in late afternoon trade.
The dollar fell around 0.8 per cent against the yen today in the late Asian market as a resumed global market sell-off sent investors running for cover in the perceived safety of the Japanese currency.
Weakness for the greenback came amid heavy fresh losses for crude oil, which dropped below $30 a barrel in morning European trading hours.
Further rattling investor nerves, China stocks reached bear-market territory today.
The US stock futures hinted of triple-digit losses for the Dow industrials at the open of trade later.
The benchmark BSE Sensex fell sharply by 317.93 points or 1.28 per cent to 24,455.04 today.
Foreign portfolio investors pumped out $171.71 millions from equity market yesterday as per the SEBI's record.
In forward market, premium for dollar firmed up on fresh paying pressure from corporate.
The benchmark six-month premium payable in June moved up to 191.75-193.75 paise from 189-191 paise yesterday and forward December 2016 contract also rose to 402-404 from 398-400 paise yesterday.
The RBI fixed the reference rate for the dollar at 67.4325 and for the euro at 73.3868.
In cross-currency trades, the rupee dropped further against the pound sterling to finish at 96.90 from overnight close of 96.81 and also declined further against the euro to conclude at 73.64 from 73.57.
The domestic currency continued to decline against the Japanese yen to settle at 57.58 from 57.24 per 100 yen yesterday.