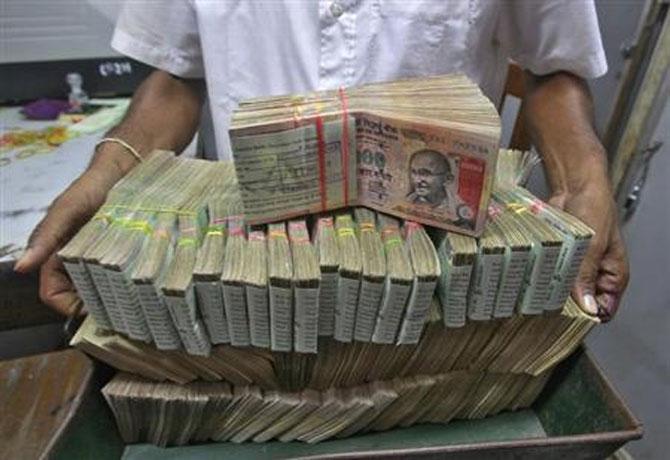 The Indian rupee was off to a bad start in the new year as it suffered the worst single-day drop in over two weeks today by falling 32 paise to end at 63.35 against the US dollar.
Demand for the greenback from banks and importers and little support from local share market, where benchmark indices ended almost flat, led to rupee snapping a two-session uptrend.
The dollar gained strength overseas against most peers on speculation that US Federal Reserve will raise rates by the middle of this year, said forex traders. Yesterday, the rupee had gained 35 paise against the greenback but lost ground on an annual basis for the fourth year in a row.
The rupee on Thursday resumed lower at 63.17, which was also the day's high, as against Wednesday's closing level of 63.03 at the Interbank Foreign Exchange (Forex) market.
It then dropped further to 63.46 per dollar before ending at 63.35 per dollar, showing a loss of 32 paise of 0.51 per cent.
This is its steepest single-day drop since December 16, 2014 when it fell by 59 paise.
In the previous two sessions, the rupee had gained 64 paise, or 1.01 per cent. Indicating the strength of dollar in overseas markets, the closely-tracked dollar index was up by 0.04 per cent against a basket of six major global rivals.
In New York, the dollar ended 2014 with a gain of nearly 13 per cent against the late yesterday.
Currency markets were closed today on account of New Year holiday.
Pramit Brahmbhatt, Veracity Group, CEO said: "Rupee depreciated over half per cent during the day taking cues from the dollar demand from banks and oil importers.
Also, local stock indices traded range bound and closed flat." The trading range for the spot rupee is expected to be within 63.00 to 63.70, he added. The Indian benchmark Sensex today ended about eight points higher at 27,507.54.
"The rupee depreciated against US dollar as growing speculation the Federal Reserve may raise rates by the middle of this year boosted the greenback globally.
There were no major triggers today in the domestic and the global markets....Trading volumes remained low," Suresh Nair, Director Admisi Forex India. The rupee had depreciated by 123 paise or 1.99 per cent, in calendar year 2014.
In the forward market today, premia declined marginally on sustained receipts by exporters.
The benchmark six-month premium payable in June eased to 224-226 paise from 226.5-228.5 paise previously. While, forward contracts maturing in December closed unchanged at 425-427 paise.
The Reserve Bank of India fixed the reference rate for dollar at 63.3213 and for Euro at 76.5998.
The rupee fell to 98.47 against the pound from 98.30 and also dropped to 76.63 per euro from 76.58.
It moved down to 52.94 per 100 Japanese yen from 52.79 yesterday.