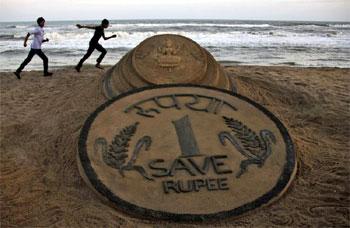 Snapping its two-day gains, the rupee on Monday declined by 48 paise to settle at nearly four-week low of 62.17 against the US currency due to capital outflows and fresh dollar demand from banks and importers.
Persistent fall in equity markets and a strong dollar in overseas markets also impacted the rupee sentiment here, dealers said.
The rupee resumed sharply lower at 62.00 as against last close of 61.69 at the Interbank Foreign Exchange market.
It dropped further to 62.21 per dollar before closing at nearly 4-week low at 62.17, a loss of 48 paise or 0.78 per cent.
It had last ended at 62.18 on January 14, 2015. The local currency hovered in a range of 62.2150- 61.9750 per dollar during the day.
It had gained by six paise 0.10 per cent in the previous two days.
"Rupee traded weak today taking cues from weak local equities and a strong dollar," Veracity Group CEO Pramit Brahmbhatt said.
Traders preferred to be cautious ahead of the Delhi election results due on Tuesday.
The trading range for the Spot USD/INR pair is expected to be within 61.70 to 62.70. In the New York market, the US dollar was trading strong against the basket currencies in early trade after robust US jobs data helped rekindle views that the Federal Reserve could hike interest rates as early as June.
Meanwhile, the benchmark BSE Sensex continued to fall for the seventh consecutive day, slipping by another 490.52 points or 1.71 pct to finish at 28,227.39.
FPIs sold shares worth Rs 96.45 crore on last Friday.
The forward premia declined on fresh receiving from exporters.
The benchmark six-month premium payable in July eased to 217-219 paise from 219.5-220.5 on last Friday and forward contracts maturing in January 2016 also moved down to 421-423 paise from 425-427 paise.
The Reserve Bank of India fixed the reference rate for dollar at 62.1410 and for Euro at 70.3809.
The rupee recovered against the pound to 94.54 per pound from 94.61 per pound previously and moved up against the euro to 70.27 per euro from 70.59. It firmed up further against the yen to 52.44 per 100 yen from 52.58 yesterday.