The US currency weakened against major Asian currencies in global markets which lifted the rupee sentiment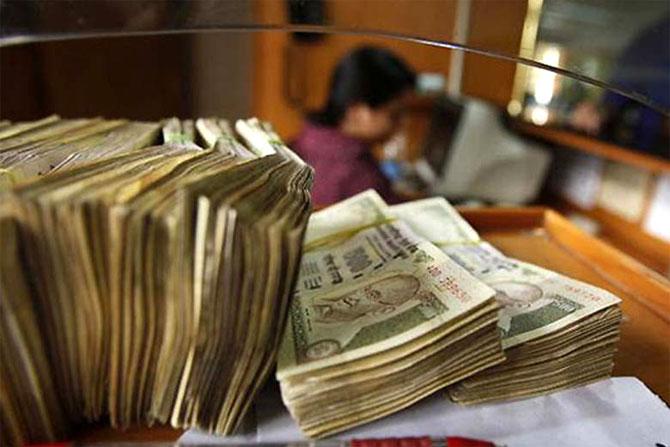 The rupee, on Tuesday, gained 13 paise to close at 66.76 a dollar as fresh selling of the US currency by exporters and banks helped it snap the two-day fall.
The US currency weakened against major Asian currencies in global markets which lifted the rupee sentiment, a forex dealer said. Foreign capital inflows too aided rupee's gain against the dollar, the dealer said.
As per provisional exchange data, foreign investors bought shares worth Rs 684.7 crore on net basis today.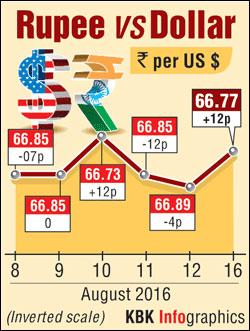 The rupee opened higher at 66.85 per dollar from last Friday's closing level of 66.89 per dollar at the Interbank Foreign Exchange (Forex) market. It hovered in a range of 66.74 to 66.9275 before ending at 66.76 per dollar, showing a gain of 13 paise or 0.19 per cent.
The rupee had dropped by 17 paise or 0.26 per cent in previous two sessions.
The dollar index was trading down by 0.87 per cent against a basket of six currencies in the late trade as investors were awaiting for minutes of the US Federal Reserve's last meeting.
A jump in oil prices aided Asian currencies against the US dollar, a dealer said. The dollar, for the first time since UK's vote to exit European Union, dipped below 100 yen to 99.96 yen, sharply below 101.25 yen in New York.
Meanwhile, RBI fixed the reference rate for the dollar at 66.8983 and euro at 75.0198.
In cross-currency trades, the rupee fell against the pound sterling to 86.72 from 86.66 on last Friday and also dropped against the euro to 75.40 from 74.56.
The domestic currency dropped against the Japanese yen to 66.81 per 100 yens from 65.55.
Pramit Brahmbhatt of Veracity Financial Services said, "Ever since opening trade we witnessed some selling pressure in dollar which helped rupee to appreciate."
In the forward market, premium for dollar moved down further on sustained receivings from exporters.
The benchmark six-month premium for January 2017 fell to 182-184 paise from 183.5-185.5 paise on last Friday and for forward July 2017 contract also eased to 383-385 paise from 384-386 paise.
In a volatile market, the benchmark BSE Sensex recovered from initial losses, but still ended lower by 87.79 points to 28,064.61 on profit-booking in select counters in view of rise in wholesale inflation.
Photograph: Reuters