A weak dollar in overseas markets also strengthened the rupee sentiment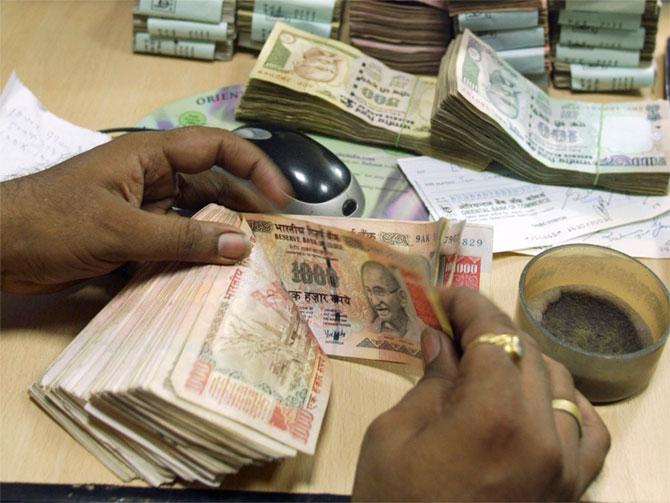 The rupee ended higher by 12 paise at 66.72 against the US currency on dollar selling by banks and exporters on the back of persistent foreign capital inflows.
A weak dollar in overseas markets also strengthened the rupee sentiment, a dealer said.
The rupee opened higher at 66.68 against last closing level of 66.84 per dollar at the Interbank Foreign Exchange (Forex) market. It hovered in a range of 66.6650 and 66.7825 before closing at 66.72 a dollar, showing a gain of 12 paise or 0.18 per cent.
The dollar index was trading down by 0.52 per cent against a basket of six currencies in late afternoon trade.
Meanwhile, the RBI fixed the reference rate for the dollar at 66.7442 and euro at 74.3797.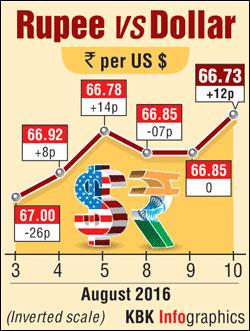 In cross-currency trades, the rupee fell against the pound sterling to 87.22 from 86.72 yesterday and also dropped against the Japanese yen to end at 65.94 per 100 yens from 65.39.
The domestic unit fell against the euro to 74.61 from 74.05.
Pramit Brahmbhatt of Veracity Financial Services said, "Rupee opened much stronger at 66.68/USD with a gain of 16 paise as dollar traded weaker on back of weak US economic data." The rupee trimmed some of the gains due to weak equity markets, he added.
"Trading range for the spot USD/INR pair will be 66.50 to 67/USD," he said.
The BSE Sensex ended lower by 310.28 points or 1.10 per cent to 27,774.8.
In the forward market, premium for dollar firmed up on fresh paying pressure from corporate.
The benchmark six-month premium for January 2017 moved up to 191-192 paise from 189-191 paise, on Tuesday, and for forward July 2017 contract also finished higher at 390-392 paise from 388-390 paise.
Meanwhile, oil prices extended losses in Asia, on Wednesday, after industry data showed a rise in US crude stockpiles, supporting oversupply concerns.