Rupee was impacted by renewed dollar demand from banks and importers amid sharp falls in equity market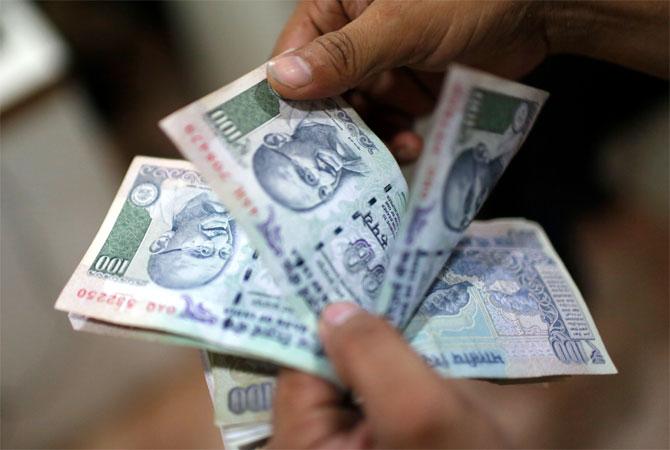 Snapping its six-day winning run against the US currency, the rupee dropped by 26 paise to end at 66.99 on renewed dollar demand from banks and importers amid sharp falls in equity market.
The rupee opened higher at 66.70 per dollar from last closing level of 66.73 at the Interbank Foreign Exchange (Forex) market on dollar selling by banks and exporters.
However, it dropped afterwards to 67.0150 on fag-end dollar demand from banks and importers before ending at 66.99 per dollar, showing a loss of 26 paise or 0.39 per cent.
The domestic unit hovered in a range of 66.70 a dollar and 67.0150 per dollar 66.70 a dollar during the day.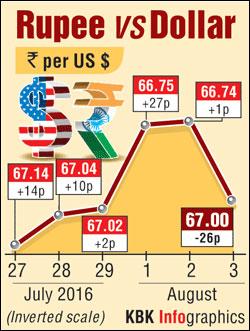 The rupee had gained by 62 paise or 0.92 per cent in previous six trading days.
In global trade, the dollar recovered from five-week lows against the basket of world currencies in late afternoon trade, which impacted the rupee sentiment, dealers said.
The dollar index was trading up by 0.17 per cent against a basket of six currencies in late afternoon trade.
Pramit Brahmbhatt of Veracity Financial Services said, "Rupee opened marginally stronger in anticipation of positive outcome from GST Bill. But taking negative cues from domestic equity market where NIFTY corrected nearly 80 points, rupee too started depreciating from opening mark and closed 26 paise down at 66.99/USD."
"Trading range for the spot USD/INR pair will be 66.50 to 67.50/USD on Thursday," he added.
The BSE Sensex crashed over 284 points to end at a three-week low of 27,697.51 and the Nifty went below 8,600, with investors keeping their fingers crossed on GST debate outcome in Parliament.
Foreign investors, however, continue to invest in stocks as they today put in a net Rs 578.17 crore in equities, as per provisional exchange data.
Meanwhile, the RBI fixed the reference rate for the dollar at 66.9368 and euro at 74.9893.
In cross-currency trades, the rupee dropped further against the pound sterling to close at 89.40 from 88.35, on Tuesday, and also dropped further against the euro to settle at 75.02 from 74.68 previously.
The domestic currency also moved down further against the Japanese yen to 66.26 per 100 yen from 65.55.
In the forward market, premium for dollar eased further on sustained receivings from exporters.
The benchmark six-month premium for January 2017 ended lower at 196.75-198.75 paise from 198-200 paise, on Tuesday, and far forward July 2017 contract eased to 396-398 paise from 398-400 paise.
Photograph: Reuters