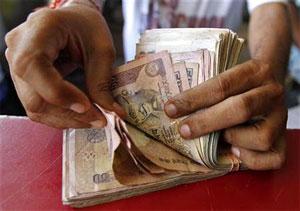 The Indian rupee snapped a two-session falling streak on Monday aided by good dollar selling by corporates, including exporters, while gains in the domestic share market also underpinned sentiment.

Traders expect the rupee to remain in the range of 60.50-61.50 to a dollar in the near-term with all eyes set on the central bank's monetary policy review on Tuesday for near-term direction.

The Reserve Bank of India is likely to leave its key interest rate unchanged on August 5 and won't ease policy until early next year on fears food inflation will spike if monsoon rains are below average, according to a Reuters poll.

"Positive Asian currencies and gains in the equity market helped, but oil companies dragged the rupee off highs. Policy is likely to be a non-event unless something drastic like a rate cut is announced, which will then be positive for bond, rupee and stocks," said Vikas Babu Chittiprolu, a foreign exchange dealer with state-run Andhra Bank.

"The central bank will continue to kill volatility
and not target any level on the currency as such. 61.20 is a key trigger point, which if broken can push the rupee down to 61.90," he added.
The partially convertible rupee closed at 60.93/94 per dollar compared to 61.18/19 on Friday. The rupee moved in a wide range of 60.8750 to 61.1650 during the day. The unit gained 0.4 percent on Monday, its biggest single-day gain since July 11.
Emerging Asian currencies rebounded on Monday after a batch of U.S. economic reports prompted markets to scale back expectations for the beginning of the Federal Reserve's rate-hike cycle.
Traders will also continue to monitor local shares for clues on the direction of foreign fund flows.
Indian shares ended higher on Monday after two days of losses as software services exporters such as Infosys rallied on a weaker rupee while lenders gained a day before the central bank's policy review.
Total foreign fund inflows into India so far in 2014 have reached $26.16 billion across debt and equities.
In the offshore non-deliverable forwards, the one-month contract was at 61.32 while the three-month contract was at 61.92.