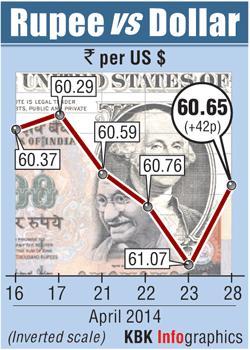 The rupee ended little changed on Monday, retreating from a one-week high hit earlier in the session as domestic shares fell for a second consecutive session and as caution prevailed ahead of the Federal Reserve's meeting this week.

Flows were dominated by large month-end dollar demand from oil companies, although that was offset by strong selling of the US currency by a large engineering firm earlier in the day.

Trading in the rupee is expected to remain range-bound with investors monitoring global factors such as tensions in Ukraine, as well as foreign flows into domestic markets, all while the outcome of elections looming next month.

"Fed is expected to continue tapering in a measured pace of $10 billion," said Vikas Babu Chittiprolu, a senior foreign exchange dealer with the state-run
Andhra Bank.
"The rupee is expected to remain range bound with a likely band of 59.80 to 61.30 until election results in India," he said.
The partially convertible rupee closed at 60.6450/65 per dollar compared with 60.60/61 on Friday, after hitting a one-week high of 60.43 earlier in the session, a level last seen on April 21.
A second consecutive daily fall in domestic shares sapped some of the momentum in the rupee, with investors also focused on the outcome of the Fed's two-day meeting ending on Wednesday, as a deeply divided Fed struggles to lay the groundwork for more difficult decisions ahead.
In the offshore non-deliverable forwards, the one-month contract was at 60.94/61.04 while the three-month was at 61.75/85.