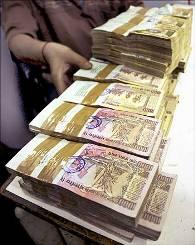 Erasing early gains, the rupee on Friday ended 15 paise lower at 54.37 on month-end dollar demand from importers and heavy capital outflows, amid weak local stocks.
However, strengthening of other currencies against the US dollar overseas cushioned rupee's fall to some extent, forex dealers said.
Foreign institutional investors pulled out a massive Rs 1,269.43 crore, or nearly $233.5 million, from domestic equities, according to BSE provisional data.
The local currency resumed higher at 54.15 against the dollar from yesterday's close of 54.22 at the Interbank Foreign Exchange (Forex) market.
However, it failed to maintain earlier gains and ended down at 54.37 on fag-end dollar demand from oil refiners, showing a loss of 15 paise or 0.28 per cent, from its last close. It moved in a range of 54.15 per dollar and 54.41 per dollar during the day.
"The rupee was seen erasing its gains and ended the session on a weaker note. The negative closing in the Indian stock markets and the weak start to the European markets weighed on the rupee today.
"Globally, the Euro is still hovering near 1.30 levels and dollar index is trading above 82.50 levels," said Abhishek Goenka (Founder & CEO, India Forex Advisors).
In the global market, the US dollar fell against key rivals in the early trade, as investors monitored Japan's monetary-policy meeting and awaited quarterly growth figures from the US.
The ICE dollar index, a measure of the greenback against a basket of six other currencies, fell to 82.576 from 82.813 on late Thursday.
Meanwhile, the BSE benchmark Sensex dropped by 120 points to end at 19,286.72 today. The premium for the forward dollar declined further on sustained receipts by exporters.
The benchmark six-month forward dollar premium payable in September finished lower at 154-1/2-156 paise from Thursday's 157-1/2-159 paise and far-forward contracts maturing in March also ended down at 321-323 paise from 324-1/2-326-1/2 paise.
The RBI fixed the reference rate for the US dollar at 54.2935 and for the euro at 70.6750.
The rupee remained weak against the pound sterling to 84.07 from overnight close of 83.73 and also fell back against the Japanese yen to 55.07 per 100 yen from yesterday's closing level of 54.70.
It, however, recovered against the euro to 70.70 from last close of 70.87.