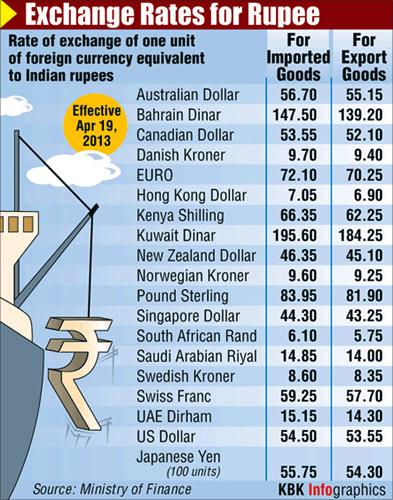 The Indian rupee on Thursday bounced back by 25 paise to close at over one-month high level of 53.96 against US dollar on a rally in local equities and fresh dollar selling by traders enthused by a lower trade deficit.

A weak dollar overseas and a further fall in prices of key commodities including crude oil also helped the rupee, a forex dealer said.

At the Interbank Foreign Exchange market, the local unit resumed better at 54.14 a dollar from previous close of 54.21 and immediately touched a low of 54.24.

With government saying March trade deficit stood at $10.31 billion from $13.5 billion in March last year, the rupee rebounded in line with a smart rally in domestic equities to touch a high of 53.95.

It finally concluded at 53.96, exhibiting a net rise of 25 paise or 0.46 per cent.

"The rupee gained amid trade data, positive comments from the Commerce Minister and the positive closing of Indian stock markets," said Abhishek Goenka, Founder &
CEO, India Forex Advisors.
Seeking to boost exports which slipped 1.76 per cent in 2012-13, government today unveiled a slew of incentives for exporters and announced a package to revive SEZs.
Brent crude oil futures fell to $98-level in overseas markets, strengthening hopes that inflation slide further and give more headroom to RBI to cut rates, forex analysts said.
The Indian stock market benchmark S&P BSE Sensex today closed up by a robust 285.30 points or 1.52 per cent while FIIs bought shares worth Rs 206.68 crore yesterday, as per provisional data with stock exchanges.
The dollar index was down by 0.14 per cent against a basket of six major global rivals on expectations of a interest rate cut by the European Central Bank and caution ahead of an Italian presidential vote.