Sensex rises 233.70 points to close at 27,079.51; Nifty gains 60.35 points to settle at 8,189.70.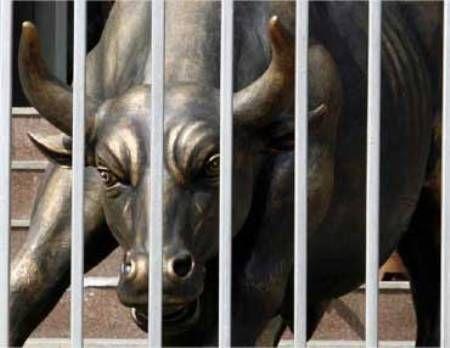 Markets closed higher on a firm note amid positive global cues after release of the minutes from the last Federal Reserve meeting indicated that the Fed is was unsettled by signs of a global economic slowdown and its impact on the US economy which in turn boosted the trading sentiments.
A rebound in the commodity prices fuelled the rally.
The Sensex rises 233.70 points to close at 27,079.51; Nifty gains 60.35 points to settle at 8,189.70.
The top gainers from the Sensex pack are Vedanta, Tata Steel, Tata Motors, ICICI Bank and Hindalco.
Tata Motors is trading higher by 3% at Rs 353, extending its 15% rally in the past four trading days on the BSE, set to report its highest weekly gain in the past six years.
On the losing side, Coal India, Maruti Suzuki, HUL, Sun Pharma and RIL are down 0.5-2.2%.
Benchmark share indices retreated from their day's high in noon trades amid profit taking at higher levels on Friday even as metal shares surged
"Investors are booking profits after gains in the previous few sessions while caution is also seen ahead of the release of September quarter earnings from next week," says G Chokkalingam, Founder & MD, Equinomics Research & Advisory.
Meanwhile, the Indian rupee continued to gain against the US dollar on dollar sales by exporters and banks while gains in domestic equities also aided sentiment.
The rupee was trading higher at Rs 64.80 against the US dollar compared to the previous close of Rs 65.05.
Further, a Reuters poll showed that the retail inflation is likely picked up in September, driven by higher food prices, but will remain comfortably below the Reserve Bank of India's target and allow room for further policy easing.
GLOBAL MARKETS
Asian markets gained on Friday led by energy shares amid rising global crude oil prices.
Shares in Japan edged higher with the Nikkei rising 1.6% while Straits Times also gained 1.6%. Further, China's Shanghai Composite ended up 1.3% while Hang Seng was up 0.8%.
European shares were up around 1% higher in early trades with major stock markets like FTSE-100, CAC-40 and DAX were up 0.6-1% each.
SECTORS & STOCKS
BSE Metal index was the top gainer up 1.4% followed by Capital Goods and Consumer Durables among others. Oil & Gas and Power indices were trading with losses.
In the metal pack, Vedanta surged 10.4%. The Vedanta Group is planning to enter the solar segment in India by bidding for some 500 MW of government projects.
Hindalco was up 3%. Alcoa's third-quarter revenue slipped to $5.6 billion, a sharp decline of 21% mainly due to closures of non-competitive facilities. The impact of Alcoa's earnings highlights revenue visibility for Hindalco's Novelis unit.
Tata Steel, which will commission a 3 million tonne steel plant in Kalinganagar by December, plans to scale up its operations gradually. Shares of Tata Steel are up over 3%.
ICICI Bank wasup 2.5%. The RBI eased risk weights on loans of up to Rs 75 lakh, provided the borrower brings in a bigger contribution towards financing the property.
Oil explorers are trading mixed despite rise in global crude oil prices. ONGC has gained 2.5% while RIL is down 0.4%.
Some natural gas from the fields of ONGC in the Bay of Bengal may have flown out through the adjoining, connected KG-D6 fields of RIL quoting US consultant DeGolyer and MacNaughton's (D&M) preliminary observations.
L&T was up nearly 1% . The company's ship building arm plans to tie-up with AdaniPorts and Special Economic Zone (APSEZ).
On the losing side, Coal India was down 2.3%. Government-owned Coal India has granted a bonus of Rs 48,500 each to its 332,000 non-executive workforce.
Sun Pharmaceutical Industries was down 0.9%. The pharma major has withdrawn its appeal in the lawsuit filed by erstwhile Ranbaxy Laboratories in November 2014 in a US District Court against US Food and Drug Administration (FDA).
Among other shares, Housing finance companies (HFCs) on expectation of the government's focus on affordable housing and favourable regulations could push overall housing credit growth, which could lead to improved mortgage penetration.
LIC Housing, Gruh Finance and Can Fin Homes are up 2-4% each.
Aurobindo Pharma gained over 4% after the drug maker announced it has received the final approval from the US Food & Drug Administration (USFDA) to manufacture and market Aripiprazole Tablets.