Benchmark share indices ended flat on Thursday as investors were unwilling to take fresh positions, amid expiry of June futures and options, ahead of the two-day European Union summit which begins on Thursday.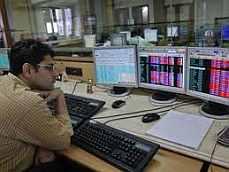 The Bombay Stock Exchange's 30-share Sensex closed at 16,991 up 23 points. The National Stock Exchange's 50-share S&P CNX Nifty closed up 7 points at 5,149.

The rupee remained firm by rising 17 paise to 56.98 per dollar in mid-session trading today as Prime Minister Manmohan Singh signalled his keenness to boost economy after taking charge of the finance portfolio.

Meanwhile, India's crucial monsoon rains were again below average last week and failed to cover as much of the country as they should have, the weather office said on its website, fanning concerns over output of key crops despite reassurances from weather officials.

On the global front, Asian markets ended on a mixed note. Nikkei, Strait Times and Kospi have gained between 0.1-1 per cent. However, Hang Seng, Taiwan and Shanghai have dipped between 0.2-1 per cent.

The euro hit a three-week low and European shares fell on Thursday as divisions among European leaders dashed any hopes of concrete measures to tackle the region's debt crisis, sending 10-year Spanish government bond yields above 7 per cent. CAC, DAX and FTSE have fallen between 1-2 per cent.

Back home, BSE FMCG index gained by nearly 1 per cent followed by counters like Power, PSU, IT, Metal and Auto, all gaining marginally. However, BSE Oil & Gas, Bankex, Consumer Durable, Capital Goods and Realty indices dipped between 0.1-0.4 per cent.

Power stocks extended Wednesday's gains after Delhi Electricity Regulatory Commission approved a steep tariff hike in Delhi. New Delhi's electricity regulator has approved higher electricity tariffs in the country's capital, by an average of 20.8 per cent, starting July 1 to help the company narrow losses. Tata Power and Coal India added 1-1.5 per cent.

Other notable gainers included Tata Steel, Hero Moto, ITC, TCS, ICICI Bank and Tata Motors.

From the Auto space, M&M, Maruti Suzuki and Bajaj Auto declined between 0.3-1 per cent. Auto share witnessed profit taking following a recommendation by a top government panel to make changes in the diesel subsidy system.

Index heavyweight Reliance Inds slipped by nearly 0.5 per cent.

From banking space, SBI declined by almost 1 per cent. SBI has cut interest rate on loans to exporters by 0.5 per cent within days of the Reserve Bank increasing the export refinancing limits of banks. HDFC Bank declined by nearly 1 per cent.

Other frontline losers were GAIL, Sterlite, Hindalco, Sun Pharma and Bharti Airtel.

Meanwhile, BSE Midcap index inched up by 0.1 per cent whereas BSE Smallcap index closed up 0.2 per cent. The market breadth in BSE ended positive with 1,462 shares advancing and 1,312 shares declining.

Smart Movers

Onmobile Global tanked 17 per cent to Rs 33.25, also its historic low, on an over ten-fold jump in trading volumes. Bajaj Finserv surged 5.4 per cent to Rs 679 on back of over ten-fold jump in trading volumes.

Rolta India ended 4 per cent higher after the IT software services firm said that it has redeemed the outstanding foreign currency convertible bonds (FCCB), amounting of $134.7 million including redemption premium of $38 million on the due date.

Brigade Enterprises soared over 15 per cent on back of huge volumes after the company said it has signed a joint venture deal with Government of Singapore.