Markets have slipped into the red after opening on the positive zone. The Sensex is down 31 points at 17,399. Nifty is down four points at 5,274.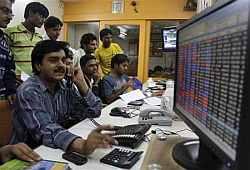 The short-term trend for the Nifty is up and the bias will continue to remain positive as long as it sustains above 5,190, analysts say.

Asian shares rose on Monday with sentiment brightening at the start of the third quarter after Europe agreed to shore up the region's banks. Japan's Nikkei average is up 14 points at 9,021. Straits and Taiwan are also up.

BSE oil & gas index is showing some weakness and is down 0.4 per cent at 8,046. Auto and bankex are down marginally as well. On the other hand, consumer durables, realty and power indices are up 0.6-1.2 per cent each.

ICICI Bank is the top loser among Sensex stocks and together with reliance, accounts for a 17 point fall on the Sensex. ONGC has slipped 0.7 per cent, followed by auto shares - Hero MotoCorp and Tata Motors. Dr Reddy's, Coal India and HDFC Bank are
down half a per cent each.
Meanwhile, Tata Power has added 1 per cent to Rs 106. Maruti, Tata Steel, Mahindra & Mahindra and Bharti Airtel are up 1 per cent each.
HDFC Bank is down 0.4 per cent at Rs 561 after the bank cut its benchmark lending rate by 0.2 per cent.
OnMobile Global has surged 4 per cent to Rs 31.70. Smallcap World Fund, one of the largest shareholders in the company, has sold 4.82 million shares in three different transactions.
In other developments, Pfizer has taken Alembic Pharmaceuticals to a US court to stop the latter from trying to sell a generic version of its anti-depressant drug, while LIC has reduced its stake in Tata Global Beverages by 2 - 11.79 per cent. Pfizer is up 2 per cent while Alembic is flat at Rs 15.60.
Aviation stocks are flying high today on reports that the oil marketing companies have cut jet fuel prices by 2 per cent. Jet airways is up 1.7 per cent, Kingfisher is up 1 per cent.
BSE market breadth is positive. Out of 1,406 stocks traded, 900 shares ahve advanced while 443 shares have declined.