The Sensex and the Nifty witnessed biggest one day loss in percentage terms since June 24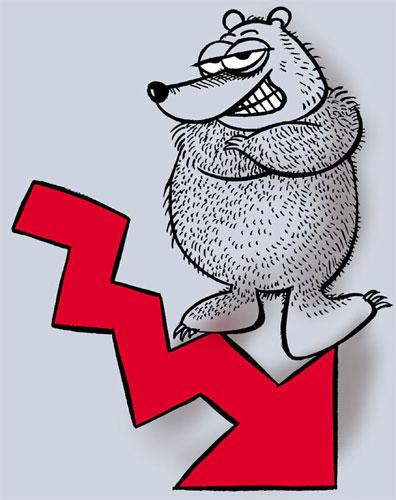 Indian stocks witnessed a sharp plunge on Monday after prospects of a rate hike by the US Federal Reserve during latter half of the month rattled global markets while commodities also slumped.
Besides, investors engaged in profit booking in the recent gainers at attractive and higher valuations. Stock market will remain closed tomorrow on account of on account of Bakri Id.
The S&P BSE Sensex slipped 444 points to end at 28,354 and the Nifty50 dropped 151 points at 8,716.In the broader markets, BSE Midcap and Smallcap indices slumped 2%-3%. The Sensex and the Nifty witnessed biggest one day loss in percentage terms since June 24.
"Nifty/Sensex is trading at 18x 1 year forward EPS and around 22x training with an expectation of 18-20% earnings growth in the next two years. This looks stretch against the backdrop of the average 5% growth seen since FY08. Hence, possible hardening in global and domestic yields can hinder market momentum," said Dhananjay Sinha Head, Institutional Research, Economist and Strategist, Emkay Global Financial Services.
Inflation data based on Consumer Price Index (CPI) for August and Index of industrial production will be released today, while wholesale price index (WPI) is scheduled for Wednesday.
However, the Cabinet on Monday cleared a proposal to set up the Goods and Services Tax (GST) Council, which would recommend on draft model GST Bill, tax rate and contentious issues of dual control over assessment, scrutiny over assesses so that the new indirect tax system could be introduced from April 1, 2017.
Adds Jimeet Modi, CEO, SAMCO Securities, "A break below 8,800 in Nifty50 levels would confirm the beginning of correction. Market to face resistance at 9,100 Nifty50 level. Short term traders should trail their long positions at 8,800 levels and buy on dips with stop at 8,550 levels. Investors are advised to stay on the sidelines at the current levels. Existing long positions should be trailed at 8,550 Nifty50 level".
Asian shares suffered their sharpest setback since June on Monday as investors were rattled by rising bond yields and talk the Federal Reserve might be serious about lifting US interest rates as early as next week.
Reports that the Bank of Japan was considering ways to steepen the Japanese yield curve, along with worries that central banks more generally were running short of fresh stimulus options, also hit sovereign debt and risk appetite globally.
MSCI's broadest index of Asia-Pacific shares outside Japan fell 2.4%, pulling away from a 13-month peak.
Back home, the rupee weakened by 24 paise to 66.92 against the dollar at the Interbank Foreign Exchange market on Monday, falling for the third straight session, as the dollar firmed up against some currencies overseas amid weakness in the domestic equity market.
Rate-sensitive sectors were the main losers in the trades today on account of profit at higher valuations.
Nifty Bank retreated from 52-week high after Fitch Ratings said that the progressive increase in minimum capital requirements under Basel III is likely to put nearly half of Indian banks in danger of breaching capital triggers.
Top laggards from the Sensex pack were Tata steel, Adani Ports, SBI, L&T and NTPC, all slumping between 3%-5%.
YES Bank dipped nearly 6%, extending its over 10% decline in the past three trading sessions on the BSE, after the private sector lender said it has deferred its proposed qualified institutional placement (QIP) of shares.
IT shares were the gainers in trades today led by depreciation of rupee against dollar. Infosys, TCS and Wipro were up 0.3%-2%.
Among other shares, Trent moved higher by 3%, also hit its new high on the BSE in intra-day trade, after the stock was traded ex-stock split in the ratio of 10:1 on Monday.
Patel Engineering was locked in upper circuit for the six straight trading session, up 5% at Rs 108 on the BSE, on back of heavy volumes.
Rane Brake Lining touched a fresh high of Rs 1,225, up 20% on the BSE on Monday, on the back of heavy volumes in an otherwise weak market.
Illustration: Uttam Ghosh/Rediff.com