Financials emerged as the top gainers while auto shares rallied on robust September sales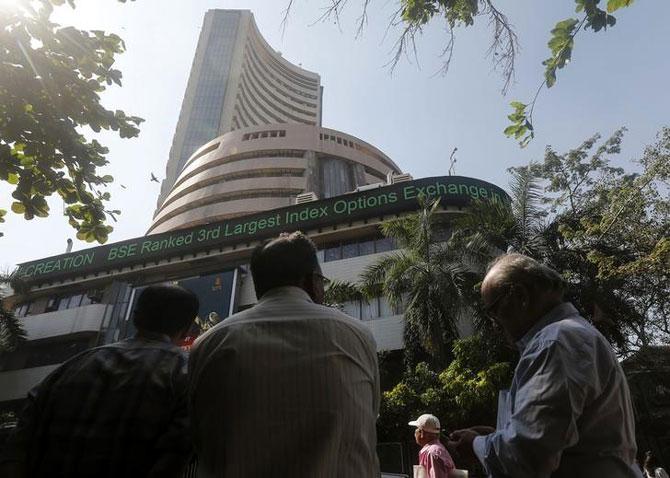 Benchmark shares indices ended over 1% higher led by financials ahead of the RBI's monetary policy review on Tuesday while auto shares rallied on the back of robust September sales.
The S&P BSE Sensex ended up 377 points at 28,243 and the Nifty50 gained 127 points to settle at 8,738. In the broader markets, the BSE Midcap and Smallcap indices ended up over 2% each while NSE's Nifty Midcap100 index touched a record high. Market breadth ended strong with 2224 gainers and 663 losers.
"As worries over cross border tensions eased, risk appetite improved, lifting stocks, while it also helped that firm oil, and positive global markets formed an ideal setting. A soft PMI figure added to fears that RBI may not be inclined to cut rates, but markets were in no mood to turn lower as sparkling auto sales figures stoked hopes of a good festive season ahead," said Anand James, Chief Market Strategist, Geojit BNP Paribas Financial Services.
Foreign institutional investors were net sellers in equities worth Rs 1,028 crore on Friday, as per provisional stock exchange data.
India's manufacturing activity eased slightly in September because of weak demand but continued to improve for the ninth straight month. The Nikkei purchasing managers' index (PMI) survey showed that September PMI stood at 52.1 marginally lower than 52.6 in August.
For the first time in its history, the Reserve Bank of India's (RBI) monetary policy will be decided by a six-member committee and not by the governor alone. Economists said that a rate cut is not warranted, as favourable data points are a relatively new trend and the central bank would do well to observe the trend taking hold before moving for a rate cut.
In the financial segment, ICICI Bank, Axis Bank, HDFC and HDFC Bank ended up 1.2%-2% each. SBI gained 1.8% after the government extended chairman Arundhati Bhattacharya's term by one year, allowing her more time to lead a clean-up of bad assets and oversee a merger of affiliates.
Maruti Suzuki India hit a record high to end 3.6% higher at 5,677 after the company reported a strong 31% year on year growth in its passenger vehicle sales in September 2016 at 149,143 units, on the back of highest-ever domestic sales.
Mahindra & Mahindra ended up 2.6%. The company reported 69% growth in total tractor sales at 30,562 units in September 2016 compared with 18,087 units sold in September 2015. Auto sales grew 8% to 46,130 units in September 2016 over September 2015.
Tata Motors ended up 1.2%. The auto major reported 8% growth in total sales at 48,648 units during September 2016 compared with 45,215 units in September 2015.
Eicher Motors rose 4% after the company said that its motorcycle division reported a 30% jump in total sales at 57,842 units in September 2016 over September 2015.
BHEL gained nearly 2%. The state-owned engineering major won orders of hydropower plants worth Rs 430 crore, including one from NHPC.
L&T gained 2.8%. The company said it has won orders worth Rs 6,024 crore across various business segments.
However, IT majors Infosys and TCS ended with losses on the back of a stronger rupee.
Among others, Jubilant Life Sciences rallied 6% after the pharmaceutical company said that it has received United State Food and Drug Administration (USFDA) approval for Ruby-Fill- Rubidium 82 generator and elution system.
Multi Commodity Exchange of India gained nearly 2% after the Reserve Bank of India (RBI) announced that Foreign Institutional Investors (FIIs) can now invest up to 34% in the company from 24% earlier.
Adani Ports and Special Economic Zone gaine nearly 3% after the Reserve Bank of India (RBI) said that Foreign Institutional Investors (FIIs) can now invest up to 49% in the company from 40% earlier.