Broader markets underperformed the benchmark indices with BSE Midcap and Smallcap indces slipping 0.8%-1.1%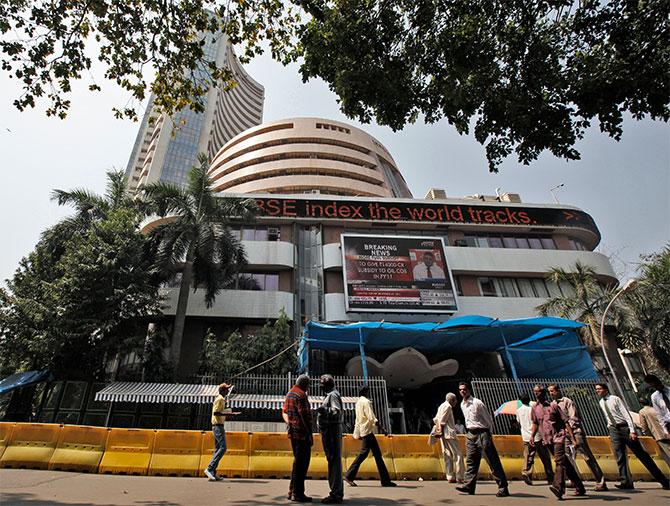 Markets ended two-day losing streak and ended marginally higher, amid a choppy session, on renewed buying interest in index heavyweights like HDFC and ITC. However, further upside was capped due to selling in select auto and information technology shares.
The benchmark S&P Sensex closed at 27,916 level up 79 points or 0.3% whereas the Nifty50 index closed flat at 8,615 mark. The broader markets underperformed the benchmark indices. The S&P BSE Midcap and Smallcap plunged 0.8%-1.1%.
"Nifty in its daily candlestick chart has formed a hammer candlestick pattern with a lower shadow. Indicating buyers interest at lower level. The key range for the market is now 8,550-8,650, a breakout of the same we could expect strong momentum to come into the market," says Rohit Gadia, Founder & CEO, CapitalVia Global Research.
"Among the key data which is likely to impact the market movement tomorrow is US unemployment claims data which is scheduled to release today is going to be key. Domestically bank loan growth and foreign reserves data is scheduled to release tomorrow.
Along with this overall global market trend and the oil price movement is likely to have a high impact on the market. Among quarterly result SPARC, NTPC and Bajaj Auto is scheduled to announce its numbers," he said.
In overseas stock markets, European stocks reversed losses after data showed UK GDP grew 0.5% in Q3, beating forecasts. Asian stocks witnessed mixed trend amid a slew of earnings.
Data showed that profit growth in China's industrial firms slowed in September from the previous month's rapid pace as several sectors showed weak activity, suggesting the world's second-biggest economy remains underpowered despite emerging signs of stability.
Profits in September rose 7.7% to 577.1 billion Yuan, slowing sharply from August's 19.5% jump, according to data released by the National Bureau of Statistics (NBS).
Back home, shares of Tata Group companies reeled under selling pressure for the third straight trading sessions, falling by up to 13% on Thursday in intra-day trade on BSE, after Tata Sons' ousted chairman Cyrus Mistry said that Tata Group faces additional write downs.
Indian Hotels Company, Tata Power Company, Tata Communications, Tata Chemicals, Tata Global Beverages, Tata Investment Corporation, Tata Coffee, Tata Teleservices (Maharashtra), Tata Metaliks, Tata Sponge Iron and Tinplate Company fallen between 1%-10% on the BSE.
In past three-trading sessions, most of the Tata Group stocks have plunged in the range of 5%-15%, against 1.5% decline in the benchmark index. Investors have lost nearly Rs 40,000 crore in Tata Group companies during the period.
Oil and Natural Gas Corporation (ONGC) hit a fresh 52-week high of Rs 297 on the BSE, after the company announced that the board approved bonus issue in the ratio of 1:2 and an interim dividend of 90%. The stock ended marginally positive.
Dr Reddy's Laboratories moved higher to three-months high of Rs 3,307, up 2% on the BSE after the company announced new strategic deal with Gland Pharma in the US market.
Q2 results reaction
Beating Street estimates, ITC posted a 10.5% increase in its net profit at Rs 2,500 crore for the quarter ended September 30, on the back of higher profitability from its cigarette business and a narrowed-down from the non-cigarettes fast-moving consumer goods (FMCG) business. The stock surged by 2%.
Torrent Pharmaceuticals slipped 8% on the BSE after the company reported a 59% year on year (YoY) drop in net profit at Rs 207 crore for the second quarter ended September 30, 2016 (Q2FY17), due to lower revenues.
Maruti Suzuki registered an 18.4% growth, selling more than 4 lakh vehicles in the third quarter. The stock ended marginally lower.
Mortgage lender Housing Development Finance Corporation has posted 14% rise in net profit at Rs 1,827 crore for the second quarter ended September 2016 (Q2 FY17) from Rs 1,605 crore in July-September 2015 (Q2 FY16). The stock was the top Sensex gainer today, up over 3%.
IIFL Holdings surged almost 8% after it posted 30% year on year (YoY) jump in consolidated net profit at Rs 183 crore for the quarter ended September 30, 2016 (Q2FY17).
Vijaya Bank hit a 52-week high of Rs 46.60 in intra-day trade after the bank's assets quality improved marginally for the quarter ended September 30, 2016 (Q2FY17) on sequential basis. The stock closed 10% higher.
Photograph: Reuters