The Sensex gained 321 points to end at 26,430 and the Nifty ended up 100 points at 7,879.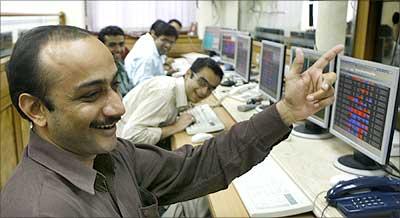 Benchmark share indices ended over 1% higher on Monday as the fuel reforms would further ease inflation, lower the government's subsidy bill and contain the fiscal deficit. Further, Narendra Modi-led BJP gaining victory in Maharashtra and Haryana state elections raised hopes of more reforms to boost economic growth.
The 30-share Sensex gained 321 points to end at 26,430 and the 50-share Nifty surged 100 points to end at 7,879.
The government hiked the gas price from the current $4.2/mBtu to $5.61/mBtu while diesel price was cut by Rs 3.37/litre.
Diesel is the most used fuel in agriculture sector and transportation which have a direct impact on food prices.
A cut in diesel prices will not only help cool off inflation but also lower the government's subsidy bill.
The markets were clearly enthused by the intent shown & the key decisions taken for the oil & gas sector before the state poll results were out, with the election code of conduct coming to an end.
Election results on Sunday acted as an icing on the cake. The nervousness in the market in the past few days had been more because of global concerns rather than anything India specific.
In fact, India is a big beneficiary of low commodity & crude prices. We have been continually advising investors to keep the faith & keep buying & accumulating good quality stocks on every dip.
The focus again shifts to the earnings season, where market has been rewarding companies that has consistently been coming up with good numbers & the treatment has been rather severe for companies which have not delivered." said Devang Mehta, Sr. VP & Head - Equity Advisory, Anand Rathi Financial Services.
The Indian rupee was trading higher at Rs 61.26 to the US dollar compared to its previous close of Rs 61.44 on sale of US dollars by exporters and banks following the fuel reforms announced by the government.
Asian markets closed higher with Japan's Nikkei share average rising 3.8% on Monday to post its biggest daily rise since June 2013 on the back of upbeat US economic dat and rally in exporters' shares amid a weaker yen.
The benchmark index jumped 579 points to end above 15,000 at 15,111.
Shanghai Composite ended up 0.7% after sources said on Friday that China's central bank is set to inject about 200 billion yuan($32.66 billion US dollars) worth of three-month loans into five or six medium-sized listed banks. Hang Seng trimmed early gains and ended up 0.2% and Straits Times ended up 0.4%. European shares were trading with marginally lower after investors booked profits after sharp gains on Friday.
FTSE, CAC-40 and DAX were down 0.7-1% each. BSE Auto index was the top sectoral gainer up 2.2% followed by Capital Goods, Oil and Gas, Bankex, Metal and Power among others. IT index was the sole loser down 0.8%.
State-owned oil and gas shares were up as the hike in gas prices would help improve revenue and profit going forward while lowering the subsidy burden.
ONGC ended up 5.4% as the company is considered the biggest beneficiary as it will rake in about Rs 1,950 crore in additional profit this fiscal from the 46% rise in natural gas prices announced by the government.
GAIL ended nearly 3% up while Oil India gained 1.1%. Among state-owned oil marketing companies, Hindustan Petroleum surged over 7% as the company is seen as the biggest beneficiary from diesel deregulation while BPCL and IOC ended up 3.8%-4.6% each.
Financial shares gained on expectations of more reforms to push the economy on the growth track.
Among the financials, HDFC, HDFC Bank, SBI, ICICI Bank gained 1-2% each. Axis Bank ended nearly 4% higher on the back of strong Q2 performance.
The bank declared a 18% net profit at Rs 1,610.71 crore and a rise of around 12.5% at Rs 10,549.97 crore in the total income for the July-September quarter compared to the same quarter last fiscal. Metal shares rebounded on reports about Chinese central bank considering injecting more liquidity in the economy to revive demand and arrest the deceleration in the Chinese growth.
Hindalco was the biggest gainer to end 5% higher while Tata Steel and Sesa Sterlite gained 0.5-2% each.
Auto stocks firmed up on expectations that lower diesel prices would lead to higher demand. Maruti Suzuki, Hero MotoCorp, Bajaj Auto and M&M ended up 0.1-2.2% each.
Tata Motors ended nearly 4% higher on reports about its prized possession Jaguar Land Rover planning to set up a factory in the US, the world's second-biggest automobile market.
Reliance Industries ended 0.4% lower as the company will not get the new gas price for its currently producing Dhirubhai-1 and 3 gas fields in eastern offshore KG-D6 till it makes up for the shortfall in production in the past four years.
IT exporters witnessed profit taking after the rupee strengthened against the US dollar. Infosys, TCS and Wipro were down 0.9-1.7% each.
Jindal Steel plunged nearly 9% after the Central Bureau of Investigation (CBI) has registered a case for alleged cheating and criminal conspiracy related to one of its largest functional coal mines in Chhattisgarh. Among other shares, UltraTech Cement ended up 5% after the cement major reported better-than-expected earnings during the second quarter ended September 30, 2014 because of robust sales growth.
Unichem Laboratories dipped 9% after reporting a 38% year on year (yoy) decline in net profit at Rs 22.30 crore for the quarter ended September 2014, due lower growth in operational income and higher raw material cost. Panasonic Appliances India gained 5% after the company said its board have approved the delisting proposal received from the promoters, Panasonic Corporation.
Geometric dipped 6% after reporting a 15.1% decline in consolidated net profit at Rs 16.30 crore for the quarter ended September 2014 (Q2) on sequential basis.
The company had profit of Rs 19.20 crore in June quarter.
Hindustan Construction Company ended up 5.4% after the company said it has been awarded a Rs 393.08 crore road project by the ministry of road transport & highway. In the broader market, the BSE Mid-cap and Small-cap indices were up 0.6-1% each. Market breadth was strong with 1,610 gainers and 1,097 losers on the BSE.