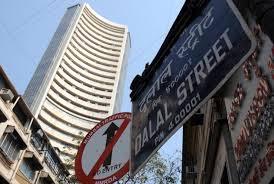 Benchmark share indices ended marginally lower after realty major DLF plunged 28%, recording its highest single-day after market regulator Sebi barred real estate major and six of its top executives, including Chairman K P Singh, from accessing the capital market for three years.

The 30-share Sensex ended down 35 points at 26,349 and the 50-share Nifty ended down 20 points at 7,864.

In the broader market, both BSE Mid Cap and Small Cap indices closed below the benchmark indices with losses of around 0.2% each.

The market breadth ended weak with 1634 declines against 1291 advances on the BSE.

Foreign investors were net sellers in equities to the tune of Rs 671 crore on Monday.

Meanwhile, WPI inflation has come around 2.38% for the month of September compared to 3.74% in August, lowest in 33 months.

With better than expected figures on retail inflation too, analysts expect RBI to be able to meet its 2016 target of 6% of retail inflation by mid-2015 itself and adopt a dovish stance on policy rates soon.

On the back of low retail inflation the rupee had hit a high of 60.90 in early trades against US Dollar, its highest since September 23, 2014.

However, it later reversed direction and is currently trading at 61.38 against US Dollar.

Global Markets

NIkkei declined sharply by 2.4% on global growth concerns and a strong Yen while Chinese stocks recovered slightly with mainland investors heartened by easier money conditions and Hong Kong gained after a crackdown on protestors.

Paring early gains both Shanghai and Hang Seng indices closed with losses of 0.2% and 0.4% respectively.

Global markets continue to struggle on account of weak data from Japan and Europe plus lingering growth concerns about China. Continued fall in global crude prices has further dampened investor sentiments.

The crude prices will see further decline as OPEC countries have refused to cut-down output despite excessive supply in the international market and weak demand from Europe and China.

European markets extended losses with FTSE 100 and DAX losing around 0.5% while CAC 40 has lost around 0.7%.

Sectors and Stocks

BSE Bankex, and Power indices closed with gains of around 0.5%. while BSE Reality index plunged by 9.5% due to massive selling in DLF stock.

Positive inflation data uplifted certain rate sensitive stocks such as SBI and Axis Bank which closed with gains of 2-3% each while ICICI Bank closed flat.

Reliance Industries closed with a gain of 0.3% on beating analysts' expectations during the July-September quarter, with its profit increasing 1.7 per cent over the year-ago period.

At Rs 5,972 crore, however, its net profit was 1.7 per cent higher than Rs 5,873 crore in the same period last year.

Among the defensive stocks, HUL closed with gain of around 2%.

Baja Auto closed with a gain of more than 2.5% after the stock was upgraded to 'buy' by Bank of America-Merrill Lynch citing higher volume and average selling prices, and increased contribution from dirt-bike
making affiliate KTM.
Tata Steel declined after a short rebound during late noon trade and closed down around 0.2%.
Tata Steel has reported sales of 2.11 million tonnes in India for the quarter ended September 30, 2014 against 2.04 million tonnes of sales in the same period previous fiscal.
BHEL continued to surge and closed with a gain of around 4%. The company has recently bagged a contract worth 7,800 crores from Tamil Nadu Generation and Distribution Corporation Ltd for a 1320 mega watt (MW) plant near Chennai.
Coal India recovered during late noon trade and closed with a gain of around 1%. On Monday, its stocks were upgraded by HSBC to "overweight" from "neutral. Coal India will be the main beneficiary of India's increased focus on domestic coal production, HSBC said in a note.
Pharma majors closed with marginal gains. Sun Pharma and Cipla gained 0.1-0.3% each while Dr Reddys Lab lost 0.2%.
Among major declines, cigarette maker and Index heavyweight ITC closed with a loss of 0.6% on concerns regarding weaker sales and profits from the cigarette division.
. IT stocks ended weak on profit booking giving away the gains made on account of impressive Q2 performance by Infosys. TCS and Infosys lost around 0.5% while Wipro closed down 0.7%.
Sesa Sterlite pared losses and closed down 1%. The stock had fell as much as 12% on the Supreme Court reiterating a prior ruling that all iron ore mined in Goa before 2007 belonged to the State but recovered later.
Among other shares, DLF plunged around 29% to Rs 103 after SEBI barred the real estate major and six of its top executives, including Chairman K P Singh, from accessing the capital market for three years.
Sintex Industries extended gains from yesterday with a 4.5% uptick on the back of robust second quarter earnings in early morning trades. Its stocks later pared gains and closed with a loss of 3%.
United Phosphorus Limited closed with a gain of around 3% on BSE. RBI has allowed foreign investors to hold up to 74% in paid up capital in the company under Portfolio Investment Scheme (PIS) as the prescribed limit has gone below threshold.
SpiceJet surged in today's trade closed with gains of over 4% as the budget carrier's operating performance improved with higher revenue per seat amid reduced capacity.
Dion Global solutions closed with gains around 2%. The company had announced the launch of a new module within its NOVA suite to support the Shanghai - Hong Kong Stock Connect scheme.
IL&FS Engineering and Construction Company closed with gains around 17%. The company said it has won a Rs1,232 crore order from National Highways Authority of India (NHAI) for widening the 127 km Patna-Gaya-Dobhi section of NH 83 in Bihar.