RBI's fifth bi-monthly monetary policy meet due tomorrow also kept the investors on their toes.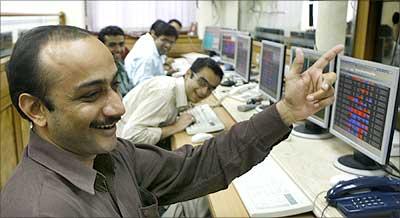 Markets finished the first session of the eventful week on a quiet note as participants await for the GDP data for the September quarter later today amid persistent fund outflows.
Meanwhile, RBI's fifth bi-monthly monetary policy meet due tomorrow also kept the investors on their toes.
This week is going to be an eventful week as vital key macroeconomic numbers are due to be unveiled including India's manufacturing purchasing managers' index (PMI) data for November on Tuesday, and services PMI data for the current month on Thursday.
The Sensex gained 17 points at 26,146 while the Nifty lost 7 points to close at 7,935.
In the broader market, BSE Midcap index closed flat while BSE Smallcap index gained 0.7%.
"It's been another flattish day for the markets, with not much activity from the key indices, except for few mid cap outperformers. The late surge in IT names could lend the support needed for markets, which are already limping it's way upwards.
Technically 7980 is a crucial resistance on Nifty (spot), a closing above that can lead another 150+ point rally as well. Supports continue to be at 7700 zone," said Kunal Bothra, Head Advisory, LKP Securities.
Asian equities closed mostly in the red with Japan's Nikkei dropping 0.7% despite official data showing an uptick in industrial production and retail sales for October.
Meanwhile, China markets pared its losses to finish with marginal gains after the regulator banned some brokerages for infringement of trading rules last week.
European stocks are trading mixed as investors eye key economic data from the US, Europe and China.
The ECB meet on Thursday is keenly awaited. Back home, the rupee fell by 5 paise to 66.72 against the US dollar mirroring losses in the Asian peers.
Also, prospects of the US Fed interest rate hike strengthened the dollar.
Stock-specific action Ahead of the RBI policy meet tomorrow, rate-sensitive stocks hogged limelight.
Financials closed mixed with ICICI Bank and SBI gained between 0.2-1.5% while Axis Bank, HDFC twins lost between 0.2-2.5%.
Meanwhile, auto stocks closed firm ahead of the monthly sales figures of automobile companies, starting tomorrow. Bajaj Auto, Tata Motors, Bajaj Auto, M&M jumped between 1.5-2.5%.
Tata Motors has launched a new car called Zica, a compact hatchback.
Expected to be priced around Rs 4 lakh, Zica will compete against Hyundai i10,Maruti Suzuki Wagon-R, Chevrolet Beat and Datsun Go, among others in that category.
Maruti Suzuki aims to increase its annual sales to about 2 million units by 2020, will invest Rs 15,000 crore over the next five years in procuring land for doubling its dealership network and expanding stockyard, warehouse and transportation infrastructure. Another notable gainer was L&T.
The stock moved up by 1% after L&T Finance invested Rs 100 crore in two residential projects of Rishabh Group in the NCR region, as per an industry source.
In the pharma basket, Cipla has gained 0.3% as it prepares to launch low dose 'Efavirenz' used in treatment of HIV infection. A weak rupee lifted the technology pack higher. Infosys and TCS surged between 0.8-1.6%.
On the flip side, Bharti Airtel lost 2% as it decides to invest Rs 60,000 crore towards transformation of its network in next three years ahead of impending launch of Reliance Jio Vedanta fell 2% after the company incurred a cumulative loss of Rs 4,299 core on its 1 million tonne Lanjigarh alumina refinery since the beginning of commercial operations in August 2007.
Meanwhile, oil and gas majors RIL and ONGC ended with losses as oil prices declined ahead of an Opec meeting later this week and as a widely expected US interest rate hike strengthened the dollar.
RIL and ONGC have lost 1% each. Amid a subdued trading session, shares of railway-related companies closed higher extending their past one week gain after Morgan Stanley report suggested that India is expected to spend a whopping USD 95 billion (over Rs 6.34 lakh crore) on ramping up its rail infrastructure. T
itagarh Wagons, Kalindee Rail Nirman, Hind Rectifiers, Stone India, Texmaco Rail & Engineering, Kernex Microsystems and BEML surged between 2-10%