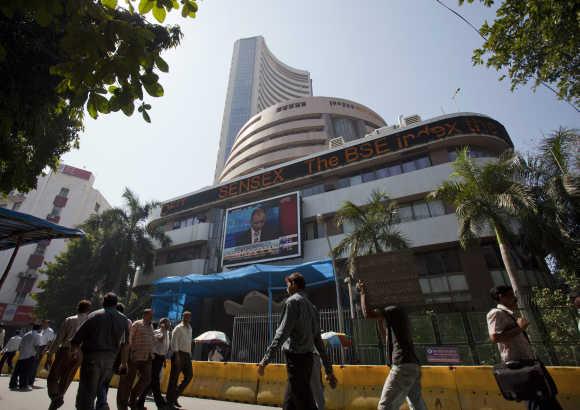 Markets ended flat after profit booking emerged at higher levels tracking weakness in global stocks even as commodity stocks rallied after sharp surge in global prices.
The S&P BSE Sensex ended up 13 points at 24,659 and the Nifty50 ended unchanged at 7,485.
The broader markets ended mixed with BSE Midcap down 0.3% and Smallcap index up 0.2%. Market breadth ended nearly neutral with 1,329 losers and 1,319 gainers on the BSE.
"Markets have been moving up without much correction in the previous four trading sessions and now profit booking has emerged at higher levels partially because of negative global cues both from Asia and Europe.
"In the short-term uptrend is seen in commodity stocks tracking global prices," said Alex Mathews, Head of Research, Geojit BNP Paribas Financial Services.
Foreign investors were net sellers in equities to the tune of Rs 672 crore on Friday, as per provisional stock exchange data.
BUDGET
Finance Minister Arun Jaitley on Tuesday announced he was withdrawing a controversial Budget proposal to tax 60% of EPF balances at the time of withdrawal.
He also withdrew another proposal to tax contribution made by an employer beyond Rs 1.5 lakh a year.
However, the proposal to not tax 40 per cent of money withdrawn from national pension system stays.
SECTORS & STOCKS
BSE Bankex and IT indices ended down 0.5%-1.3% each. However, metal, oil and gas indices trimmed early gains to end 1.5%-1.7% higher.
Bank stocks witnessed profit taking after surging 8%-20% last week. Bank of Baroda, SBI, Punjab National Bank, Kotak Mahindra Bank, ICICI Bank, Axis Bank and HDFC Bank ended down 0.6%-4.7% each.
IT shares weakened trackign losses in technology shares on the Nasdaq on Monday. Infosys eased 0.6% while TCS ended down 0.1%.
Oil shares firm up tracking a rally in global crude oil prices after Brent crude touched a three-month high to touch $39.50 per barrel while US West Texas Intermediate (WTI) futures was higher at $36.53 a barrel, up 61 cents from the last close.
Cairn India ended up nearly 7% while ONGC and Reliance Industries ended up 0.6%-2% each.
Metal stocks gained for the eight straight day tracking sharp rally in global commodity prices.
Globally, iron ore prices surged 19% amid emerging demand from China. SAIL and NMDC jumped 6%-8% each on the BSE. Vedanta, Tata Steel, Jindal Steel & Power and Hindalco ended up 1.1%-4.9%.
Coal India ended flat. The company said in a notice to BSE that its board approved dividend of Rs.27.50 per share.
Sugar stocks are surging across the board on expectations of lower domestic sugar output in FY16 owing to drought conditions in major producing states together with mandatory exports that have led to an uptrend in domestic sugar prices.
Dwarikesh Sugar Industries, Dalmia Bharat Sugar, Oudh Sugar Mills, Kesar Enterprises, Uttam Sugar Mills and Rajshree Sugars rallied more 5% each.
Tata Motors ended up 0.7%. The auto major tied up with Bharat Forge Ltd and US-based General Dynamics Land Systems Inc. (GDLS) for the Indian defence ministry's futuristic infantry combat vehicle (FICV) programme.
Among others, shares of Tide Water Oil zoomed nearly 10% to Rs 27,525 after the company announced March 17, 2016 as the record date for stock split and bonus equity shares.
Just Dial plunged 13% to end at Rs 657 on back of heavy volumes after the stock appreciated more than doubled from its 52-week low.
Elecon Engineering Company surged 8% to Rs 56.85 after the company said that it has received fresh order from Garden Reach Shipbuilders and Engineers.
Ajanta Pharma gained 1.6% after the company said it has received final approval of Almotriptan Malate tablets in dosages of 6.25mg and 12.5mg.
Strides Shasun gained 2.6% after the company said it subsidiary plans to acquire three brands from Sweden-based Moberg Pharma.
GLOBAL MARKETS
Most Asian markets ended lower on Tuesday as investors turned cautious and booked profits at higher levels.
Japan's Nikkei ended down 0.8% while Straits Times lost 1.6% while Hang Seng ended down 0.7%. Shares in China rebounded from intra-day lows after weak export data to end flat with positive bias.
European shares slipped after weak trade data from China raised global growth concerns. The FTSE-100, CAC-40 and DAX were down 0.9%-1.4% each.