World stocks rose on Monday as China's central bank fixed the yuan at a much stronger rate and oil prices held on to recent gains, easing fears of global deflation.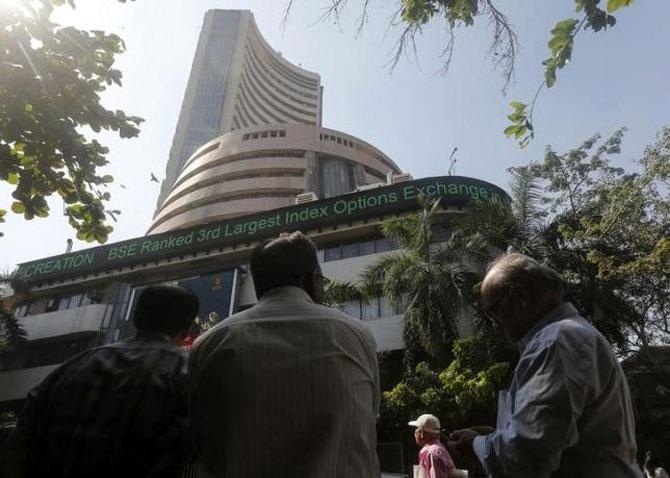 Markets rebounded on Monday to end over 2% higher led by state-owned banks on hopes of banking sector reforms while beaten down metal shares also surged on short-covering.
Further, rally in global markets, contraction in the wholesale price index -based inflation for the fifteenth straight month and strengthening rupee boosted sentiment.
The S&P BSE Sensex ended higher by 568 points at 23,554 and the Nifty50 gained 182 points higher at 7,163.
In the broader market, the BSE Midcap and Smallcap indices were up 3%-4% each. Market breadth ended positive with 1,802 gainers and 392 losers on the BSE.
ECONOMY
The wholesale price index (WPI)-based inflation fell for the 15th straight month in January, dropping 0.90% compared to 0.73% in December.
Government data released on Monday showed that total build up in the inflation for the current financial year leading up to December was -0.23% as compared to a -1.66% fall in the corresponding period of the previous year.
Food articles inflation was at 6.02% compared to 8.17% last month. For manufactured products, which have a combined weightage of 65% in the WPI index, prices declined 1.17% year-on-year.
KEY STOCKS
Metal stocks surged across the board on the back of heavy volumes.
Tata Steel surged 13% after the company said it plans to invest about Rs 2,000-2,500 crore (Rs 20-25 billion) for development of infrastructure at Gopalpur in Odisha in the near term.
Vedanta is planning to commission an aluminium park in Odisha, a move that will help the state become the aluminium hub of the world. Vedanta surged over 18%.
Among others Hindalco was up 10%, Jindal Steel jumped 14% while JSW Steel was up nearly 4%.
The banking and financial pack witnessed action after Finance Minister Arun Jaitely said the government would reduce its stake in public sector banks (PSBs) to 52 per cent.
Axis Bank surged 7% on report that it is planning to raise $500 million (approximately Rs 3,350 crore or Rs 33.5 billion) through Tier-II capital bonds to shore up its capital base. Its peers ICICI Bank and HDFC Bank have all gained between 1% and 4% each.
Among PSU banks, Bank of Baroda witnessed a sharp rebound, surging after the management said that all non-performing assets were accounted for in the third quarter and it could return to profitability next fiscal.
Further, the management also said that it would require no further capital infusion.
The stock zoomed over 22%. Among others, SBI was up nearly 8% while PNB jumped 4%, Canara Bank rose 4% while Bank of India jumped nearly 6%.
Sun Pharma gained 1% after higher 'other income', lower tax outgo, and improved performance of its US subsidiary Taro helped Sun Pharmaceutical post over three times growth in net profit in Q3FY16.
Net profit rose to Rs 1,416 crore from Rs 395 crore in same period last year.
ITC climbed 1% as it is looking to invest Rs 800 crore (Rs 8 billion) in Odisha over the next few years to set up a hotel property and a food processing park in the state.
The stock has jumped nearly 2%.
Shares of state-owned oil marketing companies (OMCs) – Hindustan Petroleum Corporation (HPCL), Bharat Petroleum Corporation (BPCL) and Indian Oil Corporation (IOC) – rallied by up to 7% on the BSE after these companies reported a strong set of numbers for the quarter ended December 31, 2015 (Q3FY16).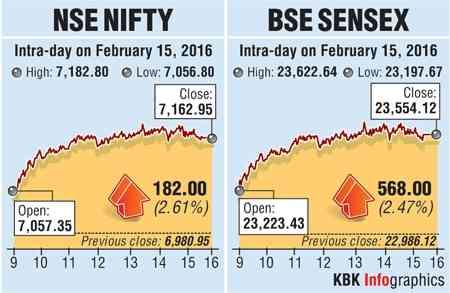 GLOBAL MARKETS
World stocks rose on Monday as China's central bank fixed the yuan at a much stronger rate and oil prices held on to recent gains, easing fears of global deflation.
The rally belied a string of poor economic data from Beijing to Tokyo as demand for safe-haven assets waned, yet investors remained on edge as concerns lingered about global growth and the health of the financial sector.
European stocks rose 3%, having shed nearly 10% over the last fortnight, following a similar bounce in Asia.
Nikkei jumped more than 7%, putting its worst week since the depths of the global financial crisis in 2008 quickly behind it.