Sun Pharma dipped 2% to Rs 615 on the BSE, its lowest level since November 9, 2016, Surabhi Roy/Business Standard reports from Mumbai.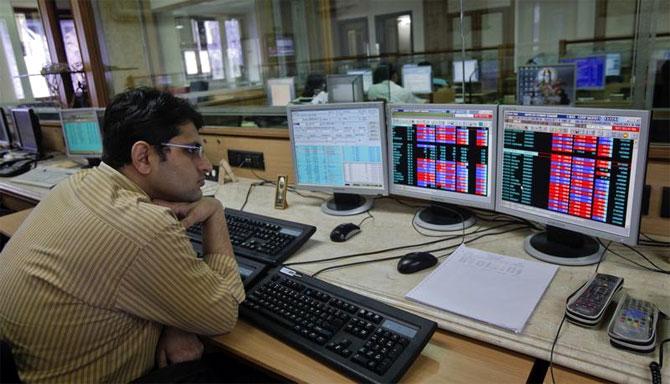 Benchmark indices extended losses for six straight trading sessions amid volatility owing to lack of any major domestic as well as global cues. Moreover, the holiday spirit is expected to keep the market muted on account of less volume on the FII counter.
The S&P BSE Sensex settled the day at 26,242, down 66 points, while the broader Nity50 closed at 8,061, down 21 points. Among broader markets, BSE Mid-Cap index slipped 0.2%, and the BSE Small-Cap index added 0.1%.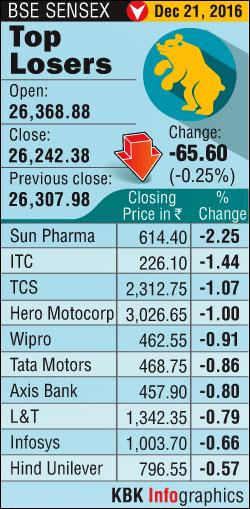 Rohit Gadia, Founder & CEO, CapitalVia Global Research said, "We expect the short-term trend to continue to stay lacklustre unless we see a decisive breakout. Only in the case if market manages to hold above the 8000 level and move above the 8200, the bull is likely to regain its control back".
He further adds, "Market move going forward largely depends on the trading activity of FII and DII. FII still maintain their stance as a gross seller is a concern. Along with this how the investor will take the BOJ projection that the Japan's economy is projected to grow 1.5% in inflation-adjusted terms in the fiscal year starting in April is going to be key".
On the macro-economic front, the Reserve Bank of India on Wednesday exempted Know Your customer (KYC) compliant accounts from the new rules on deposits of above Rs 5000.
Global peers
The US dollar held near 14-year peaks on Wednesday as global yield spreads shifted inexorably in its favour, while early weakness in the yen saw Japanese shares touch a one-year top.
Profit-taking set in as a slow pre-Christmas session dragged on and the Nikkei eased 0.2% in late trade. Spread betters pointed to a small opening loss for European exchanges after shares there hit an 11-month high on Tuesday.
Australia's main index finished at its best level in 17 months after Wall Street racked up more records.
Buzzing stocks
Top gainers from the Sensex pack were M&M, NTPC, ICICI Bank, Lupin and Bajaj Auto, all up 1%-2%. On the losing side, Sun Pharma, ITC, Tata Motors, TCS and L&T slipped between 1%-2%.
Sun Pharmaceutical Industries dipped 2% to Rs 615 on the BSE, its lowest level since November 9, 2016.
Reliance Communications (RCOM) ended nearly 7% higher on the BSE after the company announced the signing of binding agreements with Brookfield Infrastructure in relation to the acquisition of RCOM's nationwide tower assets by affiliates of Brookfield Infrastructure Partners LP.
Coffee Day Enterprises, Jubilant FoodWorks, Just Dial and Network18 Media & Investments from the BSE500 index hit their respective 52-week lows on the BSE on Wednesday in intra-day trade.
Post demonetization scheme, all these four stocks have fallen between 8% and 15%, on concerns of the government move to abolish high-denomination notes may impact the sales for short term.
JBF Industries moved higher by 6% on the BSE after a nearly 4% of total equity of the company changed hands via block deal in noon deal trade.
Linde India surged 7% on the BSE on back of heavy volumes.
Sasken Communication Technologies hit a 52-week high of Rs 448, up 8.5% on the BSE in intra-day trade, ahead of the board meeting on Friday to finalize share buyback price and to fix the record date.