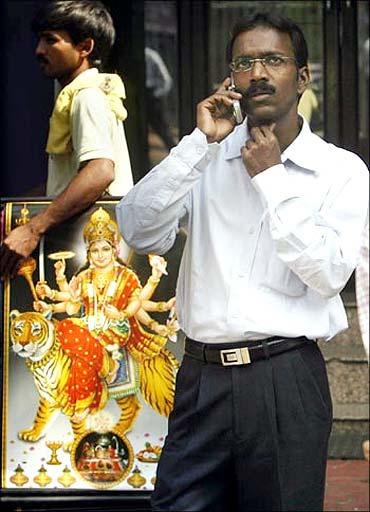 After posting gains for four straight sessions benchmark indices 1% lower as investors booked profits after the government lowered 2015-16 GDP growth forecast lower to 7-7.5% from 8-8.1% earlier.
The S&P BSE Sensex lost 285 points to end at 25,519 and the Nifty50 shed 82 points to close at 7,762.
"After 4 days of buying, finally the markets succumbed to selling pressure. The crucial pivot of 7,750 is now getting tested again, and any pullback on Nifty would require support from this pivot point. Sectorally no specific moves were witnessed in terms of uptrend, and once again it was only midcaps which outperformed and stock specific action continued," said Kunal Bothra, Head- Advisory, LKP Securities.
MACROECONOMIC DATA
The government at its mid-year economic review forecasted consumer price inflation of 6% for FY16 adding that the economy had made progress but challenges remained. It also promised to hold fiscal deficit at 3.9% of total GDP, while projecting a revenue deficit of 2.8% for FY16. It cautioned that it would reassess commitment to cut fiscal deficit by 0.4% by FY2017 It also warned that the proposed wage hike for central government employees by the Seventh Pay Commission could adversely impact the fiscal deficit.
NOTABLE STOCKS
Shares of IT companies finished weak after the US Congress doubled a special fee on the popular H-1B and L-1 visas raising it up to $4,500 to fund a 9/11 healthcare act and biometric tracking system that will hit Indian IT companies.
The Indian IT companies will take a hit of $400 million annually with the hike in H-1B and L-1 visas.
Infosys, TCS, Tech Mahindra lost between 1%-2%. Another sector that witnessed selling in today's trade was banks. Bank stocks lost sheen after the RBI released the final guidelines on computing interest rates on advances of commercial banks based on the marginal cost of funds.
Among state-run banks, United Bank of India, IDBI Bank, Bank of Baroda, Allahabad Bank, Dena Bank, Indian Bank, Vijaya Bank, Andhra Bank, Punjab National Bank, Bank of Maharashtra, SBI, UCO Bank and Bank of India lost between 0.5%-2%. Among private sector banks, HDFC Bank, Kotak Mahindra Bank, IndusInd Bank, City Union Bank, Federal Bank and ICICI Bank shed between 0.4%-1.5%.
Meanwhile, HDFC lost over 1% % after the company announced that it has agreed to sell 12.33 crore shares representing 22.902% stake held in HDFC ERGO General Insurance Company (HDFC ERGO), a subsidiary of the company, to ERGO International AG, Düsseldorf at a price of Rs 90.973 per share aggregating Rs 1122 crore. Shares of oil exploration and production (E&P) companies also fell as global crude oil prices declined.
Reliance Industries, Cairn India and ONGC dropped between 0.5%-1.6% as lower crude oil prices would result in lower realization from crude sales for oil exploration firms.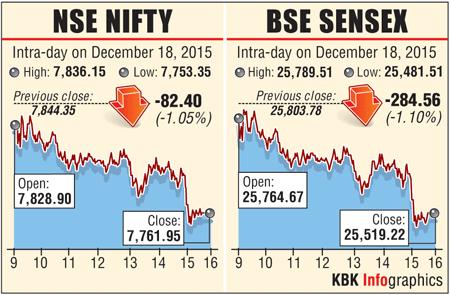 Among individual names, Bajaj Auto declined 2% tracking Argentina's peso that plummeted 26.5% after the country lifted currency controls.
Bajaj Auto obtains approximately 20% of its revenue from exports to Latin America and Argentina is a key market for the auto company in terms of exports.
Vedanta emerged as the top loserand lost over 3% after the company said that its arm Sesa Goa may suspend iron ore mining in Goa due to the ongoing dispute between the firm and truck operators.
Further, Maruti Suzuki which gained in the morning trades gave off all its gains and ended 1% down. The car maker announced the receipt of approval from its minority shareholders to allow its Japanese parent Suzuki invest and own an upcoming plant in Gujarat, where a total investment of Rs 18,500 crore has been envisaged in the long term.
On the flip side, M&M gained 0.2% after the company unveiled its much awaited compact sports utility vehicle (SUV) Mahindra KUV100.
GLOBAL STOCKS
Most of the Asian equities closed lower amid a volatile trading session as investors shifted their focus on key economic data, central bank decisions and commodity prices.
Meanwhile, the BOJ maintained the monetary policy unchanged as expected, but the central bank announced a new program to purchase ETFs at annual pace of 300 billion yen ($2.45 billion).
This is in addition to the bank's existing ETF purchase program which increases ETF holdings at an annual pace of about 3 trillion yen.
Japan's Nikkei ended 1.9% down. Among its peers, China's Shanghai Composite and Hong Kong's Hang Seng lost between 0.1%-0.3%.
In the European market, European equities are trading lower amid a further slip in the commodity prices. London's benchmark index FTSE, France's CAC40 and Germay's DAX are trading lower between 0.5%-1%.