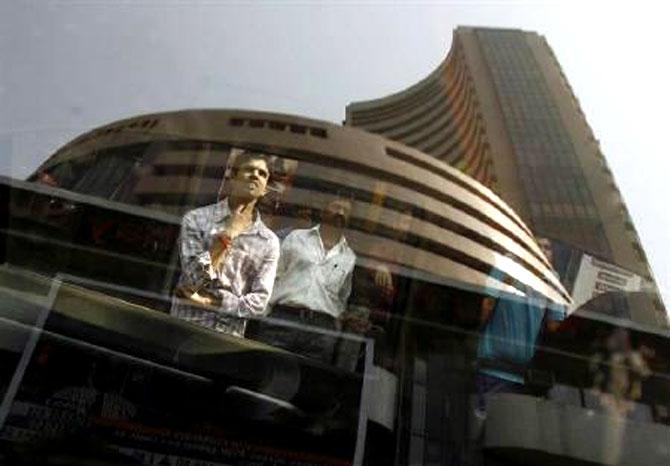 After a weak opening, markets gathered pace and finished firm on the back of favourable macroeconomic numbers with October industrial production up 9.8 per cent and wholesale prices falling for a 13th straight month in November quoting at -1.99 percent.
However, anxiety continues to prevail at the D-Street ahead of the US Federal Reserve meet due later this week.
The S&P BSE Sensex climbed 106 points to close at 25,150 and the Nifty50 surged 40 points to end at 7,650.
MACRO ECONOMIC DATA
The WPI data for the month of November stood at negative 1.99 against negative 3.81 for the month of October. This is the 13th consecutive month where the WPI has declined.
Moreover, Industrial output grew by 9.8 per cent in October on robust demand for manufactured products in the festival month compared to just 3.6 per cent in September.
Meanwhile, rupee is trading over 2-year low of 67.06 against the US as greenback strengthened on prospects of a US Federal Reserve hike.
Also, oil prices sank to fresh seven-year lows with Brent below $39 a barrel for the first time since December 2008 after the IEA, warned that demand growth was starting to slow.
STOCKS IN FOCUS
Shares of steel companies closed higher after the government imposed import duties for five years on some stainless steel imports from China, the European Union and the United States on Friday.
Among individual names, Jindal Stainless, Maharashtra Seamless and ISMT gained upto 11%.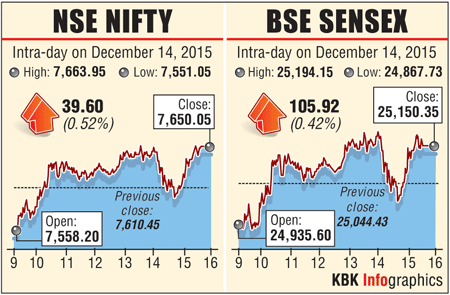 Meanwhile, JSW Steel and Tata Steel gained between 2%-5% on prospects that the import duty could be imposed on other categories of steel as well. Other notable gainers from the metal pack include Hindalco and Vedanta up 3% and 0.5% each.
Drug maker Sun Pharma climbed 1.6% as its subsidiary Sun Laboratories is planning to hit the domestic bond market in order to raise up to Rs.1,000 crore to fund an internal restructuring.
IT major Infosys jumped 1.7% after the company invested $3 million in sport solutions start up "Whoop".
Whoop is an early-stage company offering a performance optimization system for professional sports teams.
Another prominent gainer in today's trade was Maruti Suzuki up 1.9% on talks that Japan will import cars manufactured in India by Maruti Suzuki.
On the flip side, TCS closed 0.5% lower after the company said that Chennai floods are expected to have a "material impact" on TCS' current quarter revenues.
Meanwhile, carmakers closed with losses following the NGT order barring registration of new diesel-powered vehicles in the capital.
Tata Motors and M&M ended lower between 0.1%-2%. Shares of two-wheeler companies including Bajaj Auto and Hero Motocorp also closed flat with a negative bias.
Shares of oil exploration companies continued to trade weak on the back of slipping crude oil prices. ONGC lost nearly 1% while RIL ended flat.