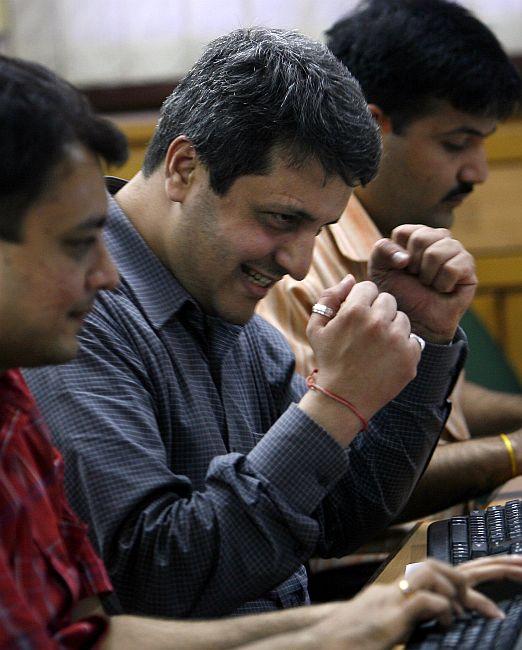 Maintaining the winning streak for the fourth session, good monsoon prospects and favourable macroeconomic data catapulted Nifty to settle comfortably at 7,850 levels.
Strength among the global peers amid rally in commodity and crude oil prices on reports of an Russia-Saudi Arabia agreement to freeze output, further buoyed sentiment.
The S&P BSE Sensex surged 481 points to close at 25,627 and Nifty50 soared 142 points to end at 7,850.
"A strong comeback from Nifty and many sectors were seen in this week.
Especially at a time when the results season would kick start, it is interesting to see such strong momentum in the indices. Nifty is also nearing its 200 DMA now (7872 levels), however with this strong momentum, it could probably be taken out early next week.
Quite a few high beta sectors have started to gain back momentum, including, Metals, Banks, Auto etc.
IT and Pharma on the other hand have remained subdued. These are classical sectoral signs of a market in strong momentum.
"We believe that resistance would arise closer to 7950 -8000 zone as this was the range where the indices reversed twice in the last 6 months," said Kunal Bothra, Head-Advisory, LKP Securities.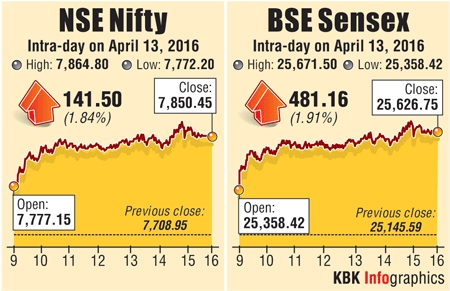 MACROECONOMIC DATA
Retail inflation measured by the Consumer Price Index eased to a six-month low of 4.83% in March from 5.26% in February.
Also, India's industrial output rose by 2% in February after falling continuously for three consecutive months, government data showed on Tuesday.
MONSOON
After two consecutive droughts, the India Meteorological Department on Tuesday said the monsoon this year is expected to be "above normal."
It forecast monsoon at 106 per cent of the Long Period Average.
This is the first time since 1999 that department has made an "above normal" prediction.
Monsoon is considered normal if rain during the June to September season is 96-104 per cent of the LPA.
GLOBAL MARKETS
Asian equities surged across the board after strong Chinese trade data raised hopes that the economy is stabilizing. Also, rally in commodity and crude oil prices lifted the mood. Japan's Nikkei and Hong Kong's Hang Seng jumped 2.8% and 3% each.
China reported exports rose 18.7% in yuan terms in March, compared to a year earlier, while imports dipped only a slight 1.7%. That was a huge improvement for the month of February as usually the data at this time of year tends to be distorted by the new year holidays.
China's Shanghai Composite soared 1.4%.
Following the tandem, European stocks are gaining across the board buoyed by higher oil prices and better-than-expected China export data.
FTSE 100, CAC 40 and DAX are surging between 1.5%-2.5%.
Brent crude oil prices hit a four-month high on Tuesday after reports of an agreement among two major producers to freeze output, boosting energy stocks, even as the US dollar was having its strongest session in three weeks.
STOCK TRENDS
Banking shares closed higher up to 6% on the bourses after IIP growth of 2% in February 2016 raised expectations of pick-up in credit growth going forward.
ICICI Bank, SBI, Kotak Mahindra Bank, Bank of Baroda, SBI, IndusInd Bank, Axis Bank, Punjab National Bank, HDFC Bank, Federal Bank and YES Bank jumped between 1%-6%.
Shares of automobiles companies soared after "above average" monsoon forecast by the Indian Metrological Department raised expectations of higher demand going forward.
M&M, Bajaj Auto, Maruti Suzuki, Tata Motors, Bharat Forge, Hero Motocorp, Motherson Sumi and Eicher Motors surged up to 8%.
Going along, shares of companies whose business is related to the rural sector extended gains for the second straight day after India's weather department forecasted above normal monsoon this year.
Swaraj Engines, Mahindra & Mahindra and VST Tillers Tractors from automobiles zoomed up to 8%. Among the agri-related segment, Kaveri Seed Company, PI Industries , Coromandel International , Tata Chemicals and Rallis India soared over 3% each.
Among other prominent gainers were Bharti Airtel up 1% after the telecom major garnered nearly 50% of the total subscriptions in the month of March 2016. Bharti Airtel added 2.55 million subscribers in March 2016, according to a report released by the Cellular Operators Association of India.
India's Tata Steel and Germany's Thyssenkrupp are holding high-level talks on the possibility of combining their European steel operations in a joint venture, but are also looking at other options, German daily Rheinische Post said on Wednesday. Tata Steel gained nearly 3%.
In the technology pack, Wipro rallied nearly 3% after the company's Board of Directors will meet to consider a proposal for buyback of equity shares of the Company on April 20, 2016.
However, IT giant Infosys closed 1% lower ahead of its fourth quarter earnings due on Friday, April 15.
Engineering goods majors BHEL and L&T witnessed an uptick and finished 6% and 1.7% higher after IIP numbers gave a positive surprise with a growth of 2%.
ITC rose nearly 2% as the company is embracing the online marketplace route to push its lifestyle retail business, especially its apparel brand John Players, which it plans to expand into newer categories, according to media sources.
Surge in the oil prices on reports of an Russia-Saudi Arabia agreement to freeze output lifted the oil exploration majors RIL and ONGC higher. RIL and ONGC closed higher by 1.5%.