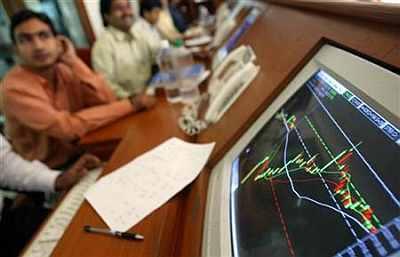 Benchmark share indices ended higher on Tuesday, ahead of the two-day US Federal Reserve Open Market Committee meet, led by pharma shares after better-than-expected second quarter earnings from Lupin and Ranbaxy boosted sentiment.
The 30-share Sensex ended up 128 points at 26,881 and the 50-share Nifty ended up 36 points at 8,028.
In the broader market, BSE Mid cap Index ended flat while BSE Small cap gained around 0.7%. Market breadth ended positive with 1,507 advances against 1,372 declines.
Global Markets Asian markets closed mixed with Japanese stocks down around 0.4% after dismal results from Canon Inc.
raised concerns about corporate earnings.
On the other hand, China and Hong Kong shares rebounded on Tuesday on hopes of more reforms in the state-owned enterprises fuelled particularly by reports about a possible merger between China's top train makers, China CNR and CSR Corporation in order to create a global entity.
Hang Seng gained around 1.6% while Shanghai Composite closed with gains more than 2%. European stocks have opened higher as better-than-expected results from a number of blue-chips including Novartis and UBS helped lift sentiment.
FTSE and CAC 40 indices have gained around 0.3% each while DAX index has gained more than 1.3% Sectors and Stocks BSE Health Care index closed with a gain of more than 1% followed closelyby BSE Power index.
BSE FMCG and Oil & Gas indices closed with loss of 0.1-0.2% each. Among pharma stocks, Sun Pharma gained more than 4% after Ranbaxy and Lupin announced their second quarter results which were better than market estimates. Ranbaxy Laboratories gained over 6% after reporting better-than-expected consolidated net profit of Rs 478 crore for the quarter ended September 2014 (Q2), on back of strong operational performance.
The drug maker had a loss of Rs 454 crore in a year ago quarter. Sun Pharma which is in the process of acquiring Ranbaxy is also seen to be benefitting from the price rises announced by its subsidiary, Taro in the US market.
Gaining on strong performance by its peers, Cipla also surged more than 3% however Dr Reddys Lab ended down 0.8% as analysts feel Dr Reddy's net profit could be affected due to the 12% depreciation in the rouble against the rupee, as Russia contributes about 20 per cent to its revenues, as well as a higher estimate of research & development (R&D) costs. Lupin lost around 2% after it gained nearly 5% ahead of its results.
The pharma major reported a 54% jump in July-September quarter of the 2015 fiscal at Rs 630.40 crore compared to the same quarter last fiscal when the profit was around Rs 406.20 crore.
Lupin numbers were helped by robust sales in its domestic business and the United States, its largest market. Financials were among the top Sensex gainers on expectations that RBI would cut rates earlier than expected.
The rally was led by ICICI Bank closing up around 2% followed by HDFC at around 1%. SBI gained around 2.4% while its other three listed associate banks - State Bank of Mysore, State Bank of Travancore and State Bank of Bikaner and Jaipur –also rallied on the bourses after State Bank of Mysore reported robust results for the second quarter ended September 2014.
L&T extended gains and closed up around 0.5% on the Gujarat government's work order of Rs 2,979 crore to the company on Monday to construct the Statue of Unity, the world's tallest statue. FMCG major HUL extended losses and closed down around 0.8% on worries over volume growth and after several brokerages reduced their target price post the second quarter earnings.
Net profit was up 8% at Rs 988 crore for the quarter ended September compared to Rs 914 crore in the same quarter last year. Volume growth was lower at 5% compared to 6% in the previous quarter.
Select auto stocks continued to witness profit taking after gains last week post robust festive sales. Hero MotoCorp lost around1.6% while , Bajaj Auto and Maruti Suzuki closed down around 0.4-0.7% each.
However, Tata Motors rebounded from its correction in the previous session and closed up around 1%.
Oil shares were among the top losers. ONGC lost around 0.8% as further decline in crude prices is expected to erode the profitability of companies involved in exploration. Reliance lost around 0.8%.
Meanwhile, Reliance has ruled out any production outage on account of cyclone 'Nilofar' which is likely to make landfall on the northern Gujarat coast on Saturday.
The company operates the world's largest refining complex in the state of Gujarat. Coal India pared losses and ended flat.
Its shares had declined earlier on reports that The Competition Commission of India (CCI ) has asked the company to desist from indulging in anti-competitive practices by abusing its dominant position. The CCI passed this judgment in two different cases relating to the e-auction scheme and fuel supply agreements which were filed last year.
Engineering major BHEL rebounded from its day's lows to end around 1% higher.
Among other stocks, State Bank of Mysore rallied around 10% on reporting a more than three-fold jump in net profit at Rs 102 in the July-September quarter (Q2) on higher interest income, lower provisions and better recovery from written-off accounts. The state-owned bank had profit of Rs 30 crore in the corresponding year-ago quarter.
Shares of construction and engineering company NCC closed up around 12% on back of heavy volumes. Styrosolution ABS closed up around 4% on Reliance Mutual Fund acquiring over 100,000 shares of the company from the open market.
Astral Poly Technik closed down around 6% on reporting nearly 400 bps decline in operating profit margin at 12% during the quarter ended September 2014 (Q2), due to higher raw material and employee cost.