Dragged down by massive selling in stock market, investors wealth worth over Rs 1 lakh crore (Rs 1 trillion) wiped out on Friday with the BSE benchmark Sensex falling by over 450 points to close below key 20,000-mark.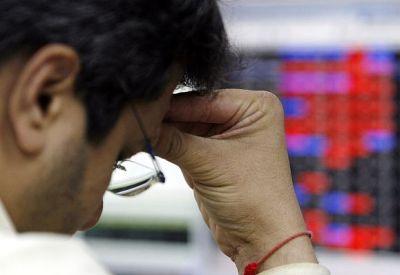 The Sensex settled at 19,760.30, down 455.10 points or 2.25 per cent. The broad-based Nifty of NSE closed 2.26 per cent lower at 5,985.95 points.

Of the 30-Sensex components, 27 ended with losses. Bharti Airtel was the top loser with losses of by nearly 5 per cent.

Among the 13 BSE sectoral indices, 12 ended the day with losses, where realty index took the steepest hit.

Following the sell-off, stock market investors lost over Rs 1 lakh crore with the BSE ending with a market capitalisation of Rs 66,78,736.64 crore (Rs 66.78 trillion).

"RBI
governor's statement that there is possibility for higher inflation and its top priority is controlling the increasing Current Account Deficit, which is also one of the major reason of rupee weakening, chances for further rate cuts in near term have become dim. All these factors dampened the market mood," said Rakesh Goyal, Senior Vice President, Bonanza Portfolio.
Belying hopes of further rate cuts, the Reserve Bank on Thursday said there are upside risks to inflation and containing the high current account deficit would be its priority.
"The main fears in the mind of investors are ballooning current account deficit and how soon can the interest rate come down," said Motilal Oswal, CMD, Motilal Oswal Financial Services.
Economic growth rate slipped to a decade low of 5 per cent in 2012-13 on account of poor performance of farm, manufacturing, and mining sectors.