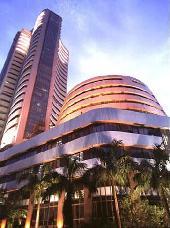 The BSE benchmark Sensex on Monday recovered 115 points on funds buying in bluechip stocks such as ONGC, SBI, Bharti Airtel and RIL amid lower crude oil prices in overseas markets and hopes of rate cut by RBI in May after lower-than-expected inflation number in March.
Wiping off initial losses, the Sensex bounced back to close higher by 115.24 points, or 0.63 per cent to 18,357.80. The index had dropped 300 points in the previous session.
The broad-based National Stock Exchange index Nifty rose by 39.85 points, or 0.72 per cent, to 5,568.40, after touching the day's low of 5,500.30.
Brokers said oil and gas sector stocks were higher as crude oil declined in overseas markets, while easing inflation data in March triggered hopes of repo rate cut by the Reserve Bank of India in its annual policy meet on May 3.
Softening vegetable prices has pulled down inflation to over three-year low of 5.96 per cent in March. This is the lowest level of Wholesale Price Index (WPI) inflation since December 2009 when it was 4.95 per cent.
A weakening trend in overseas markets as foreign funds shifted their focus to India, failed to influence the sentiment, traders added.
After a steep fall in gold and silver prices, stocks of gold loan finance companies such as Muthoot Finance and Titan industries were down significantly.
In 30-BSE index components, 15 stocks gained while other 15 closed with losses.
The oil and gas sector index gained the most by rising 2.37 per cent to 8,561.17 followed by FMCG index by 1.45 per cent to 5,876.31. PSU index gained 1.38 per cent to 6,544.60 and banking index by 0.96 per cent to 13,201.03.