Samsonite's factory in Nasik currently makes around 80,000 units a month and plans to go up to 100,000 units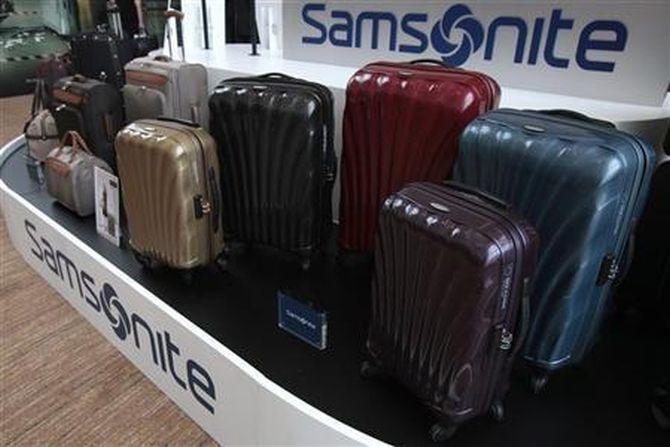 The Indian subsidiary of Samsonite, one of the world's largest makers of luggage, is catching up with market leader VIP Industries, with accessories, brisk e-commerce sales and the introduction of a value brand for the mass markets.
Anushree Tainwala, executive director with Samsonite, says growth has been in line with projections.
In calendar 2008 the company's revenue in India was Rs 220 crore compared to VIP's Rs 500 crore. Today, it's around Rs 1,200 crore.
VIP's revenue for the year ended 2017 was around Rs 1,300 crore.
E-commerce, which now accounts for 10 per cent of Samsonite's India sales, the same as VIP's, according to analysts has been one driver.
While Samsonite has always been the more premium brand catering to higher-income shoppers with edgier designs and new age materials, VIP had the advantage of better distribution with price points that make its products widely affordable.
Samsonite's product prices range from Rs 4,000 to Rs 12,000 while VIP goes from Rs 2,500 to Rs 8,000.
That's slowly changing, as Samsonite takes cues from the competition.
Skybags, which analysts cite as the reason for VIP's top positioning, accounting for 35-40 per cent of the company's top line, is the main engine to power growth, along with its backpacks.
Following suit, Samsonite pushed sales of lower-priced labels such as American Tourister, basically Samsonite's answer to Skybags, and in 2016 even launched Kamiliant, a brand conceived to cater to the sub-Rs 3,500 segment.
Kamiliant generated Rs one billion in revenue 18 months after its launch, say officials with Samsonite who indicate that its price point targets unbranded segments in smaller cities and towns across the country.
The product is distributed across 2,000 points of sale that include hypermarkets, distribution outlets and canteens.
Overall, Samsonite has also increased its points of sales by over 50 per cent in the last three years to over 5,000 locations.
Samsonite's factory in Nasik currently makes around 80,000 units a month with plans to go to 100,000 units in a month and then double to 200,000 units in a couple years or so, Tainwala says, adding that 70 per cent of that is exported.
Even so, India remains a top-five market for the global player with Japan, Korea, China and the US being ahead of it in terms of sales.
Even as Samsonite, VIP and Safari are the foremost players that come to mind when talking luggage, analysts say that the sector is largely unorganised with lots of headroom for growth.
Dhaval Dama equity analyst with Reliance Securities estimates the size of the industry at between Rs 8,000 crore and Rs 10,000 crore, growing at around 12 per cent a year.
Interestingly, niche brands like Tommy Hilfiger are drumming up revenues of Rs 700 million just on sales of backpacks.
The takeaway: youth brands are growing faster than anything else, says Dama.
Photograph: Reuters