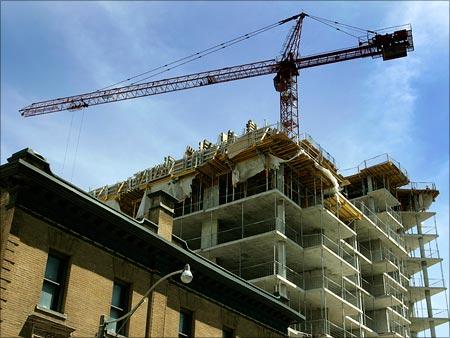 The real estate industry on Thursday hailed the RBI's decision to cut key interest rate, saying the move will boost housing demand and also improve sentiments in the sluggish property market.
However, real estate developers and property consultants demanded that interest rates be further reduced.
Encouraged by softening inflation, the RBI today decided to cut the benchmark interest rate by 0.25 per cent to 7.75 per cent with a view to boost growth.
"It's a great new year gift. It seems that the Finance Minister's effort has borne fruit to convince RBI governor."
"Given the background of RBI governor, even the small beginning will be marked as big signs of hopes for the Indian economy," DLF group executive director Rajeev Talwar told PTI.
The move would definitely encourage buyers now to invest in new homes, he added.
Commenting on the development, property consultant CBRE South Asia Chairman & MD Anshuman Magazine said: "This decision, early in the year, is a welcome one. Given the current market situation, this reduction in the base rate is an important step in improving home buying sentiments".
Magazine said that this move, hopefully with expected reduction in mortgage rates, would improve residential sales across the country, which have been suffering from general slackness in recent times.
Housing sales fell to 1.75 lakh units in the primary markets of seven major cities in 2014 against nearly 2 lakh units in the previous year due to demand slowdown, according to recent JLL India report.
CREDAI, the apex realtors' body, Chairman Lalit Kumar Jain termed RBI's decision as a "good beginning" but said "this is not enough." "A reduction of 200 basis point (reduction of interest rate by 2%) within short span is needed," Jain said.
Echoing similar views, Credai President (Elect) Getamber Anand said: "Good small step, but industry is awaiting a more aggressive cut this quarter".
Global property consultant JLL India Chairman & Country Head Anuj Puri said: "I expect this cut in interest rate to be the first of several to come, and these will cumulatively make a big difference to home loan borrowers. As of now, the current rate cut will help revive market sentiment, which is very timely".
Cushman & Wakefield Executive Managing Director, South Asia, Sanjay Dutt said this move would instill hope and confidence in the real estate industry that a recovery in housing sales is around the corner. SARE Homes MD David walker said the measure will cheer up the markets and hoped that financial institutions would pass on this reduction to customers, which in turn would boost housing demand.
Welcoming the RBI decision, Parsvnath Developers Chairman Pradeep Jain said: "Realty sector has been struggling for the last 3 quarters with lower demand and increasing inventories. Today's decision would help reduction in EMIs, thereby encouraging fence sitters to conclude deals. Developers would also get funds at comparatively lower rates."
Consultant Knight Frank India CMD Shishir Baijal termed the RBI's decision as a positive move, which would benefit the debt burdened developers and stretched households alike. Ansal API Vice Chairman Pranav Ansal said this is a positive step from the RBI and will boost housing sales and improve overall sentiments in the realty market.
Omaxe CEO Mohit Goel said: "The move clearly shows RBI's shift in stance in favour of growth. This is also the correct time to usher in a slew of out-of-policy measures like allowing banks to lend more to real estate, easy funding norms etc so that the real estate sector plays role of a catalyst in driving the overall economy." CREDAI (NCR) President Rohit Raj Modi said the rate cut will help developers to expedite projects which were otherwise facing fund crunch.
"Home buyers dreaming of owning a home would also get a boost as we expect an accelerated purchase cycle," he added.
P Sahel, Vice Chairman, Lotus Greens Developers, welcomed the decision saying the move would lead to reduction in the home loans rates which might further bring prospective home buyers back to market.
"It is a very welcome step and much awaited relief given by the central bank. Real estate industry is hoping this rate cut will pass on to consumers by financial institutions as soon as possible to provide positive trend in the coming months," TDI Infracorp COO Nitesh Kumar said.
ACE group CMD Ajay Kumar expected that banks would cut down interest on home loans after this move.
"This is a good sign and the real estate sector still look forward to RBI take the drastic steps in its forth coming monetary policy".
Burman GSC CEO Gaurav Pandey said, "This repo rate cut is a subtle move yet could be a defining moment in the 'growth comeback story' for India in post 2015 era." Ramprastha Group CEO Nikhil Jain said the industry was waiting for this move which came as a surprise from the RBI.
Neeraj Gulati, MD of Assotech Realty, described the decision as a "sigh of relief" for the industry.
"For the customers, it creates an opportune time to invest for their dream home as real estate prices are at its all time low."
Silverglades Director Anubhav Jain said: "Even though the RBI rate cut is not very substantial. It will boost the sentiments of the real estate sector to some extent." Realty portal PropTiger.com Co-founder Prashan Agarwal said: "The home loan rates will ease soon...and will bring more fence-sitters to become buyers."
ABA Corp Director Amit Modi said: "This is a good and much awaited development, since easing interest rate will help revive health of businesses like Real-Estate which are highly sensitive to interest rate movements."