Markets across the globe gained after China Securities Regulator removed its four-day-old circuit-breaker system.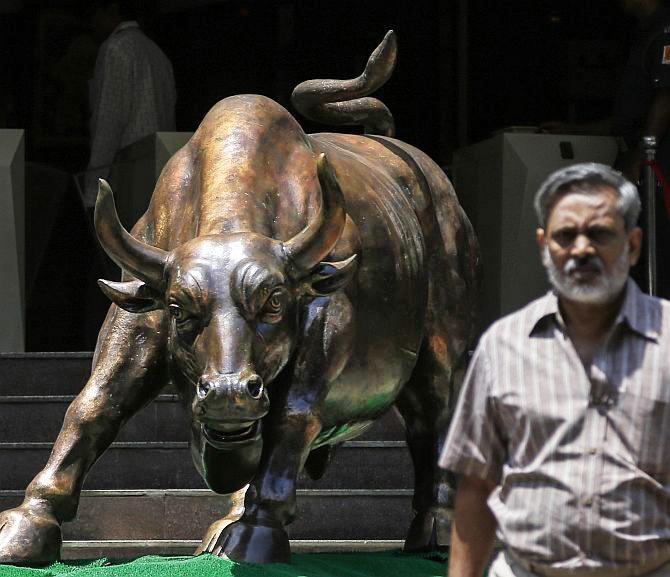 Benchmark share indices snapped a four-day losing streak to end higher on Friday amid buying at lower levels after valuations turned attractive post the sharp correction in the previous session.
Further, markets across the globe gained after China Securities Regulator removed its four-day-old circuit-breaker system that was responsible for triggering a sell-off in Chinese shares this week.
The S&P BSE Sensex rose 82.50 points to end at 24,934 after hitting an intra-day high of 24,084 and the Nifty50 gained 33 points to close at 7,601 after hitting an intra-day high of 7,634.
On Thursday, the Sensex hit a 52-week low 24,825.70 intra-day to end 555 points lower while the Nifty ended below 7,600 amid a sell-off in global stocks, after further depreciation of the Chinese Yuan rekindled fears of a growth slowdown in the world's second largest economy while slump in crude oil prices also dampened sentiment.
The broader markets outperformed the benchmarks with BSE Midcap and Smallcap indices gaining between 1%-1.3% each. The market breadth ended positive with 1283 shares advancing and 355 shares declining on the BSE.
"While technically 7,530 is the immediate support for the Nifty50, breaching of it looks inevitable when heavy weights like ICICI Bank, SBI, L&T, TCS, etc., are weak. Too many factors are now dictating directions in the market like China, geopolitical tension, local events, etc. One needs to be focussed on quality stocks of companies which continue to do well," says K Subramanyam, Co-Head Equity Advisory, Altamount Capital.
In the currency front, the rupee recovered from its three-week low by surging 18 paise to 66.75 against the US dollar at the Interbank Foreign Exchange on fresh selling of the American currency by exporters and banks.
Besides, global benchmark oil futures rallied more than 2 % on Friday, following Asian shares higher after Beijing deactivated a circuit breaker mechanism that was blamed for aggravating equity market crashes.
Strong economic growth in states is "imperative" for pushing up the country's Gross Domestic Product (GDP) and giving it a "cutting edge" to fight poverty and generate jobs, Finance Minister Arun Jaitley said today.
GLOBAL MARKETS
Asian shares rebounded on Friday, led by strong gains for battered Chinese stocks after China suspended its market circuit breaker system and set a firmer midpoint rate for yuan trading for the first time in nine days.
China's major stock indexes regained some ground on Friday after Beijing ditched a circuit breaker mechanism that halted trading twice this week and had been blamed for exacerbating the market sell-offs it was designed to limit.
The People's Bank of China also raised its guidance rate for the yuan for the first time in nine trading days, having allowed the currency's biggest fall in five months on Thursday, sending shivers through regional currencies and global stock markets as investors feared it would trigger competitive devaluations.
With the stocks circuit breaker deactivated late on Thursday, the CSI300 index closed up 2% at 3,361.56 points on Friday, while the Shanghai Composite Index .SSEC also closed up 2% at 3,186.41 points.
European shares also edged higher tracking gains in Asia led by China after the regulator suspended the new circuit breaker system. The CAC-40, DAX and FTSE-100 were up 0.4%-0.8% each.
KEY STOCKS
Shares of Reliance Industries (RIL) ended higher by 1.2% at Rs 1,024 after block deals aggregating over Rs 600 crore were executed in the counter.
Tata Motors rebounded in trades today with rise of 3% on value buying at attractive levels. The stock slumped over 6% yesterday amid concerns about Chinese demand. JLR's North America on 5 January 2016 said its US sales rose 30% to 9,638 units in December 2015 over December 2014.
ITC rose 1.2% on bargain hunting after the stock fell over 5% in the preceding five trading sessions.
IT majors like TCS, Infosys and Wipro gained between 1.3%-1.6% ahead of US job data later today.
Drug maker Sun Pharma surged 1.1% after its arm Sun Pharma Global received a tentative USFDA approval for Lacosamide. Meanwhile, Cipla is trading with marginal gains after it set up a six-member management council under the leadership of chief executive Subhanu Saxena to drive growth.
The finance ministry is considering a plan to sell part or all of a $1.7-billion stake in Axis Bank, as the government tries to narrow the Budget deficit, people familiar with the matter said. Shares of Axis Bank gained 1.1%.
M&M is contemplating closing the current fiscal with the launch of two more passenger cars/utility vehicles, thereby completing the planned launch of 10 vehicles during the year, according to its senior vice-president (sales and customer care, automotive sector) Veejay Ram Lakra. M&M trimmed early gains to end with marginal gains.
Drug major Cipla announced the creation of a 6-member 'Management Council' that will be the apex executive leadership team for the company. Shares of Cipla ended 2.6% lower.
L&T ended down 2.2% after CLSA model portfolio replaced L&T with RIL in the Asia ex-Japan long only portfolio.
Bajaj Auto dipped 1.8%. The company is to launch a series of new products, double capacity at one of its factories and launch a new brand this year.
State-run Coal India cracked 1.7% after the Indian government requested state-run firms to pay dividends of at least 30% of their PAT or their equity, whichever is greater, as part of efforts to curb the budget deficit.
SMART MOVERS
Shares of media companies mainly those engaged in movies & entertainment business rallied after global video-on-demand (VOD) player Netflix has launched services in India.
Mukta Arts, Shemaroo Entertainment, Pritish Nandi Communication, Saregama India and Tips Industries zoomed between 7%-15%.
Shares of plastic products maker Nilkamal extended gains to end 5.2% higher at Rs 1,444 on the BSE, after reported nearly four-fold jump in net profit for the second quarter ended September 2015 (Q2).
GM Breweries gained 5% after hitting its lifetime highs on the NSE. The company reported a strong 157% year-on-year (YoY) growth in net profit at Rs 15.57 crore for the third quarter ended December 2015.
Shares of IVRCL ended up over 5% after the company announced that its irrigation and water divisions have received orders worth Rs 350.96 crore.
(With Reuters inputs)