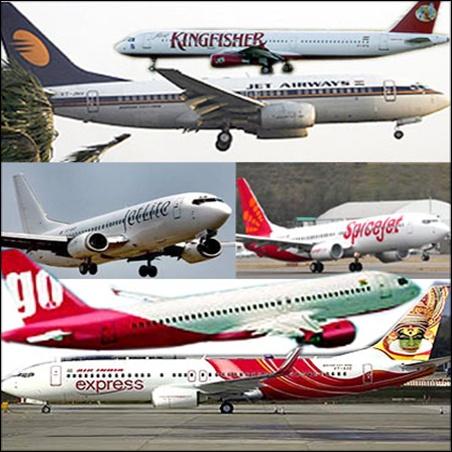 The fleet of eight scheduled airlines in the country have a total of 406 aircraft, most of which are suffering losses, Lok Sabha was informed.
While Air India and its subsidiaries jointly had a fleet of 137 planes, Jet and JetLite together have 113 aircraft. These two airlines were followed by IndiGo with a fleet of 72,
SpiceJet with 57 and GoAir 17, Minister of State for Civil Aviation K C Venugopal said.
While IndiGo reported a profit of Rs 7,957 crore (Rs 79.57 billion) in 2012-13, Air India suffered the maximum loss of about Rs 29,800 crore (Rs 298 billion). SpiceJet's loss was estimated at Rs 2,798.2 crore (Rs 27.98 billion) and JetLite Rs 1,226 crore (Rs 12.26 billion), he said.
The losses were caused mainly by global economic slowdown, poor financial health of the domestic airline industry, widening gap between revenue and expenditure and depreciation of the rupee, apart from high taxes, he said.
On the other hand, the Minister said there was a consistent increase in air traffic in the past three years barring 2012 when it fell by over three per cent.
Between January and October this year, passenger traffic rose by 4.77 per cent. Earlier, it had risen by 18.7 per cent in 2012 and 16.6 per cent in 2011.
To another question, Venugopal said the financially-troubled Kingfisher Airlines has not paid salaries to "some staff" but added the exact quantum of dues and the number of affected staff of the company was "not known to this (Civil Aviation) Ministry".
He said Income Tax authorities in Mumbai have attached a turboprop ATR aircraft of Kingfisher "in order to safeguard government revenue."