The government has asked the Indian Banks' Association to make sure that IDBI Bank's wages are at par with other banks.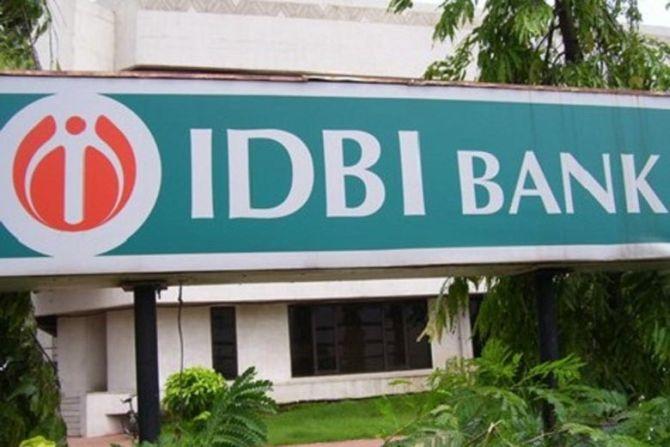 The government has asked IDBI Bank to align with other nationalised banks in terms of designations and compensation, a move that will take away the last few strands of privilege the bank and its former avatar as a term lending institution has enjoyed since the 1960s.
Although IDBI Bank is considered a public sector bank, it is designated as an "other public sector" bank because of its transformation from a term lending institution.
The chairman and managing director of IDBI Bank was treated on a par with those of the State Bank of India (SBI), Life Insurance Corporation of India (LIC), and National Bank for Agriculture and Rural Development (NABARD).
The hierarchy in the bank was also quite different from other banks.
The salary structure of IDBI Bank resembled that of the Reserve Bank of India (RBI).
As such, IDBI Bank employees were paid higher salaries than their counterparts in other public sector banks. Now everything will change.
To be sure, much of IDBI Bank's special status was stripped off a few years ago when the government said the rank of the IDBI MD and CEO would be the same as those of other banks.
Now the government has asked the Indian Banks' Association (IBA) to make sure that IDBI Bank's wages are at par with other banks.
Since IDBI Bank staff earn marginally more than their counterparts in other banks, they will not be directly part of the industry-wide wage negotiation process.
But the bank will have to implement the terms that the banking industry accepts.
That would mean certain perks enjoyed by IDBI Bank employees might be discontinued, said sources familiar with the matter.
It will also mean that if IDBI Bank employees were earning more than their counterparts in other banks, they will have to take a lower hike this year. So far, IDBI Bank has decided on its own the salaries of its staff.
The designations at IDBI Bank are also different from other banks.
For example, after MD and CEO the next level is that of executive director at other nationalised banks. In the case of IDBI Bank, it is deputy managing director.
Similarly, where other banks have general managers, IDBI Bank has executive directors in the same rank.
So all those EDs in IDBI Bank will be re-designated as general managers and DMDs will be made EDs in the bank.
Their salaries will also be on a par with their counterparts in other banks.
IDBI Bank executives said the re-designation for existing staff would also open up more posts at the senior level, such as in the general manager rank.
The bank has nine EDs who will now become general managers. But other banks with similar balance sheet sizes have 14-16 general managers.
IDBI Bank also has two deputy managing directors and 38 chief general managers. But IDBI Bank is also one of the few banks whose employees have not received any hike since 2012.
In 2007, Yogesh Agarwal, then chairman of the bank, delinked IDBI Bank's compensation from that of the RBI and gave the bank's staffers steep hikes of 30-40 per cent.
The bank was supposed to review its compensation once again in November 2012, but ballooning bad debt in the bank dashed any hope of a salary revision.
The government also increasingly started talking about privatising IDBI Bank, but before that the bank staffers need to be paid industry-level salaries.
"Now that it is no longer linked to the RBI, and there is no internal wage revision review as well, the finance ministry has said this situation cannot continue and the bank should be brought into a proper negotiation process," said a source.
The bank's stock has shot up in recent times, even as its gross bad debt amounted to about a quarter of its total loans.
Since February 16, the stock has risen more than 30 per cent as the bank prepared to sell its non-core assets, and also because the government said it would infuse Rs 10,600 crore in the bank, the highest among all public sector banks.
Finally, Moody's changed its outlook for the bank to positive from stable after announcement of the government's recapitalisation plan, fueling the rally.
The IDBI Bank union has intensified its agitation over static pay since 2012.
It is also opposed to bringing the bank into the industry-wide wage negotiation process.
Photograph: PTI Photo