IT firms are training employees of their clients and even aspiring IT professionals, in order to create fresh revenue streams amid shrinking deal sizes in traditional software maintenance, says Ayan Pramanik.
Illustration: Dominic Xavier/Rediff.com.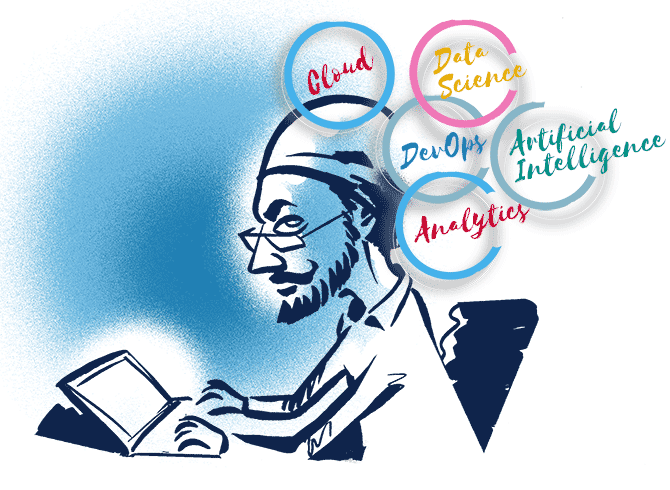 In the last three years, Indian information technology (IT) services firms Tata Consultancy Services (TCS) and Infosys have re-skilled thousands of engineers in newer technologies such as cloud and digital, amid a paradigm shift in client budgets to these new areas.
Now, these firms are taking this a step further by training employees of their own clients and even aspiring IT professionals, in order to create fresh revenue streams amid shrinking deal sizes in traditional software maintenance.
These companies are seeing faster growth in emerging technology areas such as cloud, data science and analytics, artificial intelligence (AI), and DevOps, amid a sharp fall in business from traditional services.
Infosys said training staff of clients is a key focus area, apart from deploying emerging technologies such as AI and machine learning to help clients pivot to next-generation services.
"...A lot of the work that we are doing with our clients now is learning-led. It is not just that Infosys and our peer group need to re-factor or retrain our talent. It is also our clients.
"Our clients are also looking for an overall capability uplift of their own teams and that is work where we are getting very deeply engaged.
"For one of our clients, we actually trained 6,000 of their employees across the world in DevOps. For a second client in the US, we trained 500 of their employees in Hadoop and Big Data techniques," said Mohit Joshi, head, BFSI (banking, financial services and insurance), health care and life sciences, Infosys.
Indian firms have traditionally imbibed thousands of fresh graduates from engineering colleges into centralised campuses, schooled them in tight-knit customised courses, and deployed them across projects.
Their training included soft skills, critical to delivery of services to global clients.
Infosys has a training centre in Mysuru, TCS in Thiruvananthapuram, and Wipro in multiple cities.
The assembly-line approach to training graduates for customers also helped these Indian IT firms build scale for global firms looking to outsource development and maintain technology applications critical for their growth.
They were also able to quickly shift focus to training in digital technologies, as clients cut spend on traditional IT services, choosing to invest instead in digital and cloud.
A global shortage of talent in these new areas is also raining opportunities for Indian IT firms, opportunities to offer training as part of their technology service offerings.
"This is a hybrid strategy that the service providers are adopting," said Rajesh Gupta, India partner, ISG.
"A lot of clients are adding their own capabilities and the service providers are looking at creating an eco-system where they are going to develop applications and multiple layers of services and if they do not do it, somebody else will. It will be a platform-based model.
"While it will create a new revenue stream, the challenge before them could be a third-party service provider leveraging the trained staff of their clients."
Gupta believes more service providers will have to look at such a strategy, considering the increasing demand for digital technology-driven solutions.
TCS is stepping up training for engineering and other students across countries to create employable talent in digital technologies.
The company signed a pact with National University in Philippines to introduce a comprehensive skills-readiness course for university graduates.
"Nearly 5,000 students enrolled at National University will now have access to new skills and training relevant to the IT/ITeS (IT-enabled services) industry. The new alliance is part of the TCS Academic Interface Programme," said the company.
TCS claimed that such initiatives would help alleviate demand-supply crisis in the IT services industry.