An integrated team of 200 staff crunches data to minimise disruption for 149 planes, but airport infrastructure poses a challenge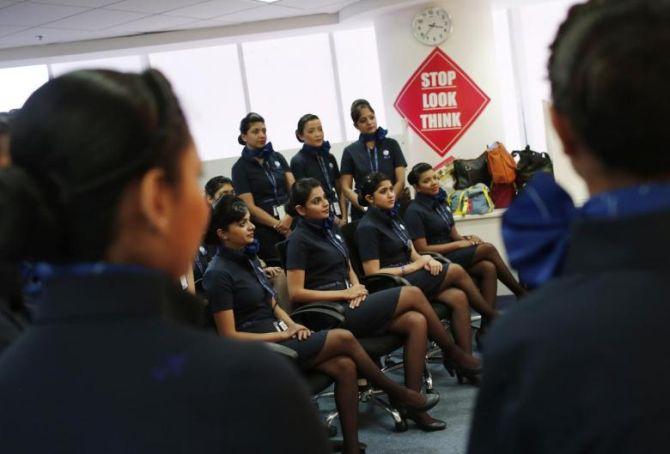 Things can be tricky for airlines operating out of the Seikh Ul Alam International Airport in Srinagar.
The weather can turn from bad to worse very quickly. Last Thursday was one such day.
While the weather department informed the airlines that visibility will improve later in the day, but till 11 AM things looked bleak.
For the country's largest airline IndiGo, operating out of such gaps in information proves challenging. IndiGo didn't wait.
It cancelled all its flights for the day and informed the passenger through call and SMS.
"We operate flights to eight destinations out of Srinagar, without proper information our passengers would have arrived at the airport which is not very big to handle such a rush, moreover if one of our aircraft is held up there, it delays other sectors as ours is a fully network carriers," said Tarun Vijh, associate director at operations, control and dispatch unit of IndiGo.
To ensure that the airline can fly through minimal disruption, it has set up at centralised flight operation system in the Gurgaon-based head office from where the team controls everything from flight dispatch to scheduling and meteorology.
The team which comprises of around 200 staff crunches real time data to alert pilots and pass advisory to passengers at shortest possible time.
"Here we try to minimise the impact of weather-related disorders and maintain the punctuality of the fleet," said Vijh, pointing at a screen which shows the weather forecast for all the 47 stations.
"We have set up our own meteorological alert system for accurate real-time data and forecasts even for places we don't fly to," says Vijh.
This helps the airline to divert aircraft to locations when the need arises.
According to him, it just takes around 30 minutes from the time the first weather disruption is reported to the passenger getting informed about it.
IndiGo is the largest airline in India with 149 aircraft and flying to 47 destinations.
Having a large fleet and operating out of Delhi has its demerits for IndiGo.
The fog that engulfs North India for almost 15 days in the months of December and January has its maximum impact on an airline like IndiGo, which is based out of New Delhi and operates close to 1,000 flights daily.
Delay or diversion of a single aircraft can throw the entire schedule of the day into jeopardy, resulting in more disruptions. Maintaining on time performance during winter is a challenge.
According to a senior executive of a low-cost carrier, in a market like India, punctuality is something airlines build their brand around.
For an average Indian flier, rather than the amenities inside the aircraft, it is the punctuality that matters.
He is not ready to shell out for comfort but will select an airline which he hears is disciplined.
The data the meteorologists crunch at OCC is passed on to the fuel monitoring cell, which sits on piles of data to be utilised for giving guidance to pilots.
"Basically, here we guide the pilot on load and trim, on how much fuel to carry, how much load to trim," says Vijh.
The amount of fuel becomes significant during congestions at airports caused by fog.
Often the pilot does not receive permission to land and has to hover over the airport, and if necessary fly to alternate locations.
"We are also in constant touch with the pilot through Flight Following Cell text messages and short emails passing on real-time information to make decision-making easier," Vijh says.
However, the airline's exponential growth is facing a hurdle in underdeveloped airport infrastructure of the country.
Limited airports are CAT IIIb enabled. That means, most of the stations that IndiGo operate to are not compatible to operate an A320 when visibility drops below 50 metres.
"Look at Benagluru,our second largest hub and have more than 100 departures. It's not CAT III enabled and operations get delayed frequently," Vijh said.
Making the airport CAT III equipped is a costly affair and most airports operated by state-owned Airport Authority of India lags in this.
"I wish that many more airports in India were CAT 3 compliant, though we may have trained pilots and equipped airplanes, we will not be able to operate due to airport constraints," IndiGo president Aditya Ghosh had said.
AAI which manages 125 airports in the country, said that it is now planning more airfields to be CAT III compliant.
"Lucknow and Jaipur has been upgraded to CAT III, By next winter we will have Amritsar and Kolkata enabled too, disruptions will be less," said Guruprasad Mohapatra, chairman, AAI.
Photograph: Adnan Abidi/Reuters