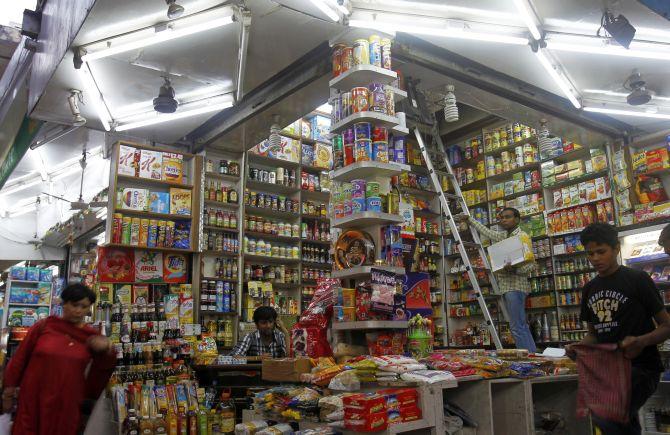 Colgate, Nestle, Dabur, Emami, HUL are all reworking their strategies and expanding their product portfolios to meet Baba Ramdev's home-grown challenge
The mood at the India office of Colgate has turned upbeat.
After months of losing sales to Patanjali Ayurved's Dant Kanti, the American oral care giant seems to have found its feet.
It has been pushing aggressively in the market its Colgate Neem Active Salt, which contains traditional Indian teeth cleansers neem and salt, to take on Dant Kanti.
The results have been encouraging.
The toothpaste, which Colgate had launched a year ago, now has a market share of 1.1 per cent.
While it may still be short of Dant Kanti's share of nearly 7 per cent of the Rs 7,000-crore (Rs 70-billion) toothpaste market, at least Colgate has a product that can halt the Patanjali juggernaut.
In an interaction with analysts from Edelweiss recently, Colgate India Managing Director Issam Bachaalani said that its Active Salt portfolio, which includes three variants including Neem Active Salt, was now a significant contributor to overall toothpaste revenues and market share of the company.
The range's contribution, he noted, would grow in the future as the firm's overall herbal portfolio was seeing "high double-digit growth".
For a company that was viewed only a few quarters ago as one that was significantly impacted by Patanjali, the comeback has been significant.
Two things are abundantly clear: one, the established players are now taking Ayurveda seriously, choosing to take on Baba Ramdev's FMCG enterprise head-on; and two, multinational corporations, which normally liked to keep their portfolio as international as possible, have realised that may not be the right strategy: to beat Baba Ramdev, you have to be like him.
That's why Colgate chose neem and salt to take on Dant Kanti. Ayurveda and herbal have strong brand equity in India -- this is what Patanjali has shown.
This is a platform an FMCG company can no longer afford to ignore.
The race gets intense
Like Colgate, others too have decided to take the battle to the enemy camp.
Last week, Nestle, another FMCG company that found itself in Patanjali's line of fire after a ban was imposed on its flagship Maggi instant noodles last year, signalled it would fend off competition with as many as 25 launches in the coming weeks.
This, say analysts, is its largest programme of launches in recent years and comes at a time when Patanjali has upped the ante in foods: not only has it launched instant noodles but followed it up with biscuits, namkeens, juices et al.
In an interaction with Business Standard earlier, Nestle Chairman & Managing Director Suresh Narayanan had said that the company would devote 2016 to increasing its share in the existing categories.
"I'll have to run faster than the competition not only in noodles, but in every other category I operate in.
"That is the mandate I would like to work towards this year."
Nestle claims that Maggi now has a 55.5 per cent market share of the Rs 1,500-2,000 (Rs 15-20-billion) crore domestic instant noodle market, ahead of rivals such as ITC (Yippee) and Patanjali. Maggi was relaunched in November 2015. Market shares of Yippee and Patanjali Atta Noodles were not immediately available.
The plethora of launches from Nestle will include seven variants of Maggi noodles, Greek yogurt brand 'Grekyo' and protein growth brand 'Pro-Gro' in the dairy segment, besides multiple products in the chocolate and confectionery category, as also new offerings in coffee and tea.
Nestle's onslaught, say analysts, is expected to heighten competition in packaged foods and distract consumers, who've been bombarded by launches and ads by Patanjali.
Launching counter-attacks
In a press conference to announce Patanjali's 2015-16 annual results in April, Baba Ramdev said that the company would double its turnover to Rs 10,000 crore (Rs 100 billion) in 2016-17 (from Rs 5,000 crore or Rs 50 billion in 2015-16) on the back of its aggressive push into categories such as healthcare, foods, beverages, personal care and branded commodities such as edible oil, rice and pulses.
Patanjali's aggression in edible oil, in fact, recently prompted a sharp reaction from the Solvent Extractors Association, which comprises the country's top branded edible oil makers such as Adani Wilmar, Cargill and Ruchi Soya. The association claimed that Patanjali was making false and misleading claims in the ads for its edible oil, which was damaging the reputation of rivals. It had written to the country's food and advertising regulators on the issue.
While the Food Safety and Standards Authority of India has showcaused Patanjali on the matter, the Ayurveda firm's frenetic pace of activity continues unabated.
This has prompted most, including companies such as Dabur and Hindustan Unilever, to shift gears.
Dabur last week launched a range of honey-based fruit spreads to expand its honey portfolio, where it has been fighting Patanjali tooth and nail.
It has also fortified its hair oil portfolio in recent quarters, where Patanjali has been biting at its heels.
And it is aggressively pushing its healthcare products into pharmacies, besides talking to doctors directly.
These initiatives (excluding the honey-based fruit spread launch) appear to be paying off. In the March 2016 quarter, Dabur saw 7 per cent volume growth, ahead of the 3-5 per cent range that the Street had expected.
In its just-released annual report for 2015-16, Dabur said it had launched 44 products during the year, a significant number.
Dabur's 2014-15 annual report does not specify the number of launches that year.
Peer Emami has not been far behind: it has re-launched virtually every key brand in its portfolio from Zandu to Navratna and Fair & Handsome in recent months in a bid to ring-fence itself from competitors. While Navratna is Emami's largest brand, valued at over Rs 700 crore (Rs 7 billion), Zandu is the second-largest at Rs 500 crore (Rs 5 billion).
Fair & Handsome is around Rs 350 crore (Rs 3.5 billion) in size, according to industry estimates.
HUL, the country's largest consumer goods company, on the other hand, has begun aggressively promoting Indulekha, the Ayurveda hair oil brand it acquired from the Kerala-based Monsons Group in December 2015.
In its just-released 2015-16 annual report, HUL said that the naturals segment was fast-evolving and that the company was making relevant investments there.
"We have revived the 'Lever Ayush' brand, which is available on e-commerce. Indulekha gives us a presence in the premium Ayurveda hair oil space.
"We are committed to investing behind both brands to strengthen our position in the naturals segment," the annual report said.