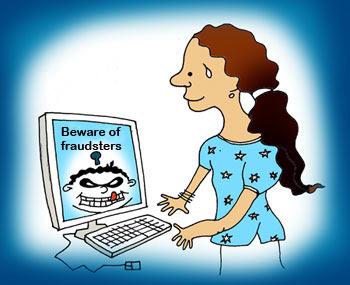 Install blockers to prevent falling prey to cryptojacking.
Priyadarshini Maji reports.
The Aditya Birla Group recently suffered a cryptojacking attack, wherein around 2,000 computers fell prey to this new form of cybercrime.
Cryptojacking is a kind of cyber threat where computers are hijacked and their computing power used to mine cryptocurrencies.
According to a recent report by Quick Heal, over 18 million ransomware and crypto-mining attacks were registered in 2017-2018, with a sharp increase in cryptojacking between December 2017 and March 2018.
Cryptojacking is not restricted only to big companies. All users who browse the internet are vulnerable to it.
Cryptojackers take over a system's resources without the user knowing about it, and use it for cryptocurrency mining.
"Cryptojacking is not essentially used to steal information. Hackers use it to hijack a system's computing power to mine cryptocurrencies," says Sean Sullivan, security advisor, F-Secure, a cybersecurity provider.
Cryptojacking to mine cryptocurrencies is also easier to carry out compared to other forms of cybercrimes.
While other types of malware are software-based and need to be downloaded to become operational, in-browser cryptojacking malware doesn't require you to install a programme.
Instead, hackers infect a Web site or an online advertisement which auto-executes once it is loaded on a browser.
As a user, you won't even be aware if your system has been compromised.
There will be no sign other than a lag in your computer's performance.
The crypto mining happens in the background while you continue to use your computer.
"For cybercriminals, cryptojacking is a cheaper and more profitable alternative to ransomware," says Sanjay Katkar, joint managing director and chief technology officer, Quick Heal Technologies.
Browser-based cryptojacking is growing fast as hackers target popular Web sites and through them infect web browsers.
Not just computer systems, even laptops, tablets, and mobile devices can be infected.
To protect themselves against cryptojacking, users need to install anti-virus and security systems on their computers.
Cryptojacking is often done through web ads.
Security systems nowadays come with ad-blockers and anti-crypto mining applications.
Installing an ad-blocker prevents hackers from getting access to systems via browsers.
Ad-blockers have the capability to detect crypto mining scripts and block them.
Other applications such as NoCoin and minerBlock can also keep coin miners at bay. These extensions are loaded on Web browsers such as Google Chrome, Mozilla Firefox, and Opera.
If a system falls prey to cryptojacking, it also becomes vulnerable to other types of cyber threats.
Sensitive information and financial records stored on the system become accessible to hackers.
Besides installing protection software, users should also buy cyber insurance covers to safeguard themselves against cyber risks.
These policies guard customers against risks such as identity theft, malware attack, loss arising from IT theft, phishing, email spoofing, cyber extortion, and cyber stalking.
Loss of money suffered due to a cyberattack is also covered in the policy up to the sum assured.
The individual sum insured cover ranges from Rs 100,000 to Rs 10 million and the premiums range from Rs 700 to Rs 9,000, respectively.
"Individuals and companies usually opt for these covers after they fall prey to such incidents and losses. But recent malware attacks have alarmed customers about cyber risks," says Sasikumar Adidamu, chief technical officer, Bajaj Allianz General Insurance.
Illustration: Rediff.com/Dominic Xavier