This is not the first time Gujarat Cooperative Milk Marketing Federation that owns brand Amul has chosen an unconventional method to protect its brand.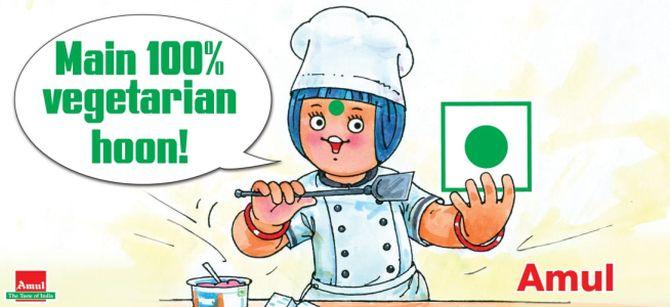 For a few days now, Brand Amul has been under attack on social media with its ice-creams being accused of using animal fat.
The ice-cream that claims to be purely vegetarian, its trolls alleged, was not being true to its consumers.
The allegations hurled by a few individuals, at first, soon stirred up a verbal maelstrom and threatened to throw the brand off kilter.
The company responded strongly and quickly and instead of relying only on press releases and public declarations, it uploaded a video of managing director R S Sodhi denying the allegations and denouncing the trolls.
It also had the Amul girl delivering, rather uncharacteristically, a straightforward message reiterating the brand's vegetarian identity.
This is not the first time Gujarat Cooperative Milk Marketing Federation (GCMMF) that owns brand Amul has chosen an unconventional method to protect its brand.
About two years back a similar message (that claimed that the emulsifiers used in Amul products like ice-cream are sourced from animal sources) was doing the rounds on WhatsApp, R S Sodhi, managing director of GCMMF, recollects.
"At that time we had created WhatsApp messages that clarified that our products were purely vegetarian," he adds.
Cut to 2018. A video showed a group of young boys claiming Amul ice creams contained pig fat and was hence 'haraam' (or forbidden).
The group asked people to boycott the dairy major's products.
This time, Amul chose a more intense and strategic campaign to counter the disinformation.
It asked its marketing team to reassure customers and trade partners that its products and ingredients were '100 per cent vegetarian'.
It also responded to each and every customer who reached out, keeping the message consistent and the tone, serious.
On September 5, Amul released a detailed note on its website that certified its use of vegetarian ingredients and added certificates from the supplier of the E-471 emulsifier that the video mentioned.
"Through search engine optimisation and marketing, we ensured customers were able to read our rejoinder on our website when they searched for E-471 or Amul Ice Cream," Sodhi said.
Why did Sodhi feel the need to go on the video? Should they have used a more famous face to stand up for the brand?
Sandeep Goyal, founder of Mogae Media says, "I have no view on the controversy, nor do I care what emulsifier their kulfi contains.
"But how come Amul could not come out with a more tongue-in-cheek message on its hoarding when faced with allegations and criticism?"
He believes that the brand's communication was different from the persona that it has built over the years.
"It is easy to poke fun at others, but a different story when it is you that is in trouble," he adds.
Sodhi says, "The fake video in circulation looks staged and hence motivated. We felt that we needed to counter that through an intense campaign on social media."
As for not using a funny repartee from the Amul girl, he says, "It is a serious issue, so we did not want to trivialise it by making a funny topical."
"Main 100% vegetarian hoon!" says the Amul girl on Twitter.
And in the video, apart from re-affirming that the emulsifier's vegetarian origins, Sodhi adds another message.
The 3.6 million farmers who own Amul would never cheat consumers.
"Amul's money does not go out of the country, it goes to poor farmers, and poor farmers don't lie," Sodhi says, perhaps hoping to turn the crisis into an opportunity to reiterate the brand's nationalist colours.
Brands duel with rumours in a variety of ways, sometimes felling them with quick responses and at times, fuelling them further by staying silent
Photograph: Courtesy, Amul via Twitter.