Almost each of these companies has a different technology to show for the effectiveness against microbes.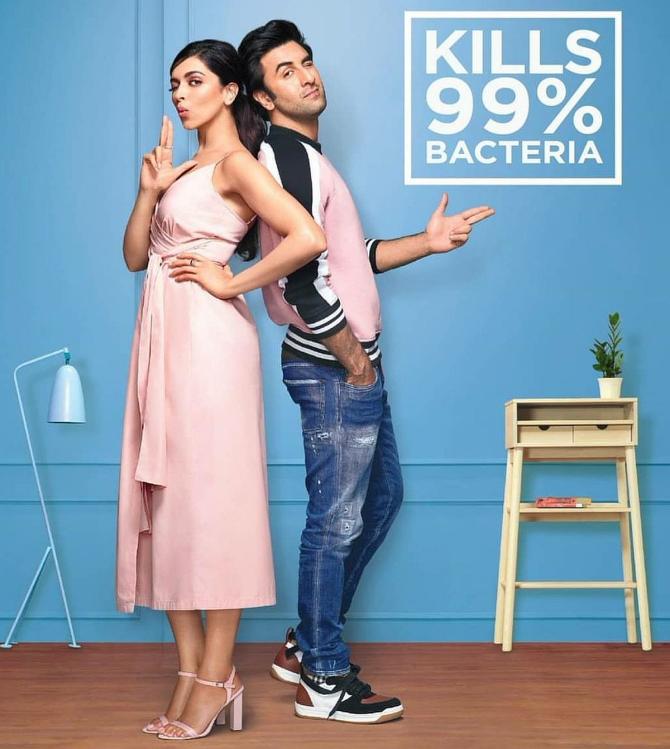 In the last week of October, Asian Paints put out a half-page advertisement in some leading news dailies, announcing its anti-bacterial paint.
In the advert, which featured Ranbir Kapoor and Deepika Padukone, it claimed the paint killed 99 per cent bacteria.
A prominently positioned stamp on the ad also claimed that the paint was 99 per cent effective against the Covid-19 virus as well and killed it within 30 minutes of exposure to the surface.
Asian Paints isn't the first company to roll out and advertise a product line that claims efficacy against microbes, and often also the virus that has brought the world to its knees.
Over the last few months, several businesses have advertised such products.
Textile-to-retail conglomerate Arvind, Aditya Birla group (with Peter England), Donear, Raymond, Siyaram's, JSW Paints… the list is long and growing.
And why not? The antimicrobial textiles market alone is likely to surpass $20.5 billion by 2026, according to Delaware-headquartered Global Market Insights Inc.
Almost each of these companies has a different technology to show for the effectiveness against microbes.
Peter England, for instance, says it collaborated with Switzerland-based HeiQ to launch antiviral work wear, lounge wear and face masks.
HeiQ Group's co-founder and CEO Carlo Centonze has said the fabric remains resistant to common viruses and bacteria for up to 30 gentle washes in the case of masks and 20 for apparel.
Peter England has, however, been careful to put out a disclaimer in its ads: "Resistance to Covid-19 is yet to be assessed."
Raymond, meanwhile, turned to Japan to bring out a ViraSafe range to target microbes through a "built-in Silver Technology" and an antiviral chemical, which, its spokesperson says, is safe for the human body.
The fabric's antiviral properties, the spokesperson adds, last 30 washes and are effective even post that, and have been tested at centres such as Bureau Veritas, ITS Laboratories and Biotech Testing Services.
For Donear Industries, which tied up with men's wear brand Zodiac to launch Securo (its range of antiviral shirts), sales in this segment have been unprecedented, says Managing Director Rajendra Agarwal.
The company, he adds, expects 10-15 per cent — approximately Rs 50 crore — of its annual sales to come from antiviral products, which include wool blends, synthetic blends, cotton blends and others.
Moving from clothes to walls, JSW Paints recently launched a new range of antibacterial paint, Halo Safe Home, for walls, wood and metal.
The paint, which the company says uses Zn2+ zinc ions to fight bacteria, fungus and virus and complies with Japanese Industrial Standards, is currently priced at Rs 300-350 a litre.
And, so far as the film remains intact, its antimicrobial properties can last 5-7 years, says A S Sundaresan, joint MD and CEO, JSW Paints.
While information and research on antiviral products is limited globally, anti-bacterial coatings are far more evolved, Sundaresan adds.
A virus does not survive on its own and needs a host.
Bacteria (good or bad), on the other hand, is a widely present microorganism.
So if a coating is anti-microbial and doesn't allow anchorage to bacteria, then it should be effective against viruses too, he explains.
Products with ad-on properties such as these also come for an added cost.
Donear, for instance, charges 15 per cent more for its antiviral fabric.
Peter England's antiviral collection is priced at Rs 1,700-2,000 a metre (the regular range costs Rs 735-1,500).
In the paint industry, such value-added products are offered at a 5-10 per cent price premium by leading companies, says Sundaresan.
Whether people who use these products as an added layer of protection get infected less than those who don't is, however, debatable.
There are peer-reviewed researches on dressings for wounds made of fibres and bandages that are bacteriostatic (capable of inhibiting the growth or reproduction of bacteria), bactericidal (capable of killing bacteria outrightly), anti-viral, fungistatic and such.
But "we don't have enough scientific data on this (antimicrobial wearables)," says C Jagadeesh, senior consultant-Internal Medicine, Apollo Hospital, Chennai.
"Besides," he adds, referring specifically to textiles, "for infections such as Covid-19, clothes are not the main mode of transmission."
And then, what might work in foreign conditions might not hold true in the Indian environment, where ambient temperature, humidity levels and so on are different, says K Srinath Reddy, president, Public Health Foundation of India.
So these antimicrobial products — whether textiles, paint or UV radiations — must stand scrutiny by independent laboratories in Indian conditions, he adds.
Asian Paints, in fact, declares in its ad that its Covid-19 claim is based on a study by the Rajiv Gandhi Centre for Biotechnology, a government-certified lab in Thiruvananthapuram, Kerala.
Asian Paints did not respond to emails by Business Standard for this article.
Meanwhile, the Advertising Standards Council of India (ASCI) is keeping a close watch on such advertisements by companies, big and small, including those for air conditioners, air purifiers, healthcare items and such.
"So long as brands deliver what they promise, these could be useful to consumers," says ASCI secretary general Manisha Kapoor.
"What we don't want is for them to take undue advantage of consumer fears."
Photograph via Twitter