A decline in the real estate sector, rising debt and the company's alleged involvement in 2G scam caused damage to the business and its image.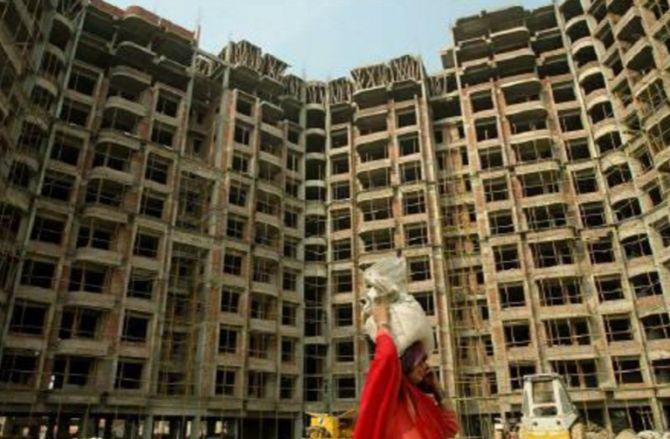 The government's seeking to take over embattled real estate developer Unitech would send a strong message to the industry, developers said.
"It is a wake-up call for all corporates to not do business at the cost of customers, shareholders and vendors," said J C Sharma, vice-chairman and managing director of Bengaluru-based realty developer Sobha.
"It will send a message to the industry that if you mismanage your company you will lose it," said an executive with a Delhi-based real estate company.
With court cases and government policies like RERA there was now a perception that real estate was becoming a buyer's market, the executive added.
Niranjan Hiranandani, chairman and managing director of Hiranandani Communities, said a government takeover could be justified if there was fraud involved but not because of the failure of the company.
Other developers said the move was unfair.
"How can the government take over the company? You put the promoters in jail and then talk about taking over the company. It does not add up," said office-bearer of Credai, an industry lobby group.
Around 19,000 home buyers are awaiting possession of Unitech flats and houses.
The company has defaulted on payment of Rs 600 crore to over 15,000 small depositors. It has also defaulted on Rs 880 crore of loans.
Besides Unitech, real estate companies Jaypee Infratech and Amrapali face insolvency proceedings in the National Company Law Tribunal (NCLT).
In November, the Supreme Court directed the directors of Jaiprakash Associates, the parent company of Jaypee Infratech, not to alienate personal properties and asked the company to pay up Rs 275 crore by December.
The NCLT Allahabad bench admitted the Jaypee Infratech case on August 10 after IDBI Bank referred the company for defaulting on debts of Rs 526.11 crore.
Close to 32,000 homebuyers in various Jaypee projects are yet to receive possession of their apartments.
The JSW group, Vedanta, the Lodha group and Deutsche Bank are among 18 parties that have shown interest in buying Jaypee Infratech, according to reports.
Similarly, Puravankara and Godrej Properties are among six companies that have expressed interest in submitting resolution plans for Amrapali Silicon City, a group firm of the debt-ridden developer Amrapali.
In September, the NCLT had admitted a petition by Bank of Baroda against Amrapali Silicon City over a loan default.
An interim resolution professional was appointed to conduct proceedings in accordance with the Insolvency and Bankruptcy Code.

Amrapali Silicon City is developing a housing project in Sector 76, Noida, on over 43.7 acres.
Rise and fall of Unitech
'Realty Mogul', 'Power Brand' and 'Superbrand' are the three recognitions listed by once popular real estate firm Unitech on its website.
These recognitions, once the symbol of a flourishing real estate business, have quickly diminished.
A decline in the real estate sector, rising debt and the company's alleged involvement in 2G scam caused damage to the business and its image.
Set up in 1971 by IITian Ramesh Chandra, Unitech claims to have delivered over hundred residential projects, many of which still command a premium in the resale market.
It has also developed several commercial projects, including malls such as the Great India Place in Noida.
'Thousands of families live in Unitech-built homes, work in Unitech-erected offices, drive on Unitech-developed roads and highways, stay in Unitech-constructed hotels, study in Unitech-created schools and unwind at clubs that bear the proud legend -- Unitech,' the company website claims.
On March 31, Sanjay Chandra, along with older brother Ajay, was arrested by the economic offices wing of the Delhi police for allegedly duping home-buyers in a Gurugram project.
Sanjay (45), who remains the company's managing director (according to the website) was also jailed in 2011 in connection with the 2G scam.
A CBI (Central Bureau of Investigation) charge-sheet alleged Chandra's involvement in allocation of 2G spectrum licences.
He walked out of the capital's Tihar Jail in 2012. Unitech had partnered Telenor for a telecom joint venture.
The Chandra family, father Ramesh and sons Ajay and Sanjay, were ranked seventh in 'The Billionaire Club', Business Standard's annual ranking of the country's wealthiest people, in 2007, with a net worth of over Rs 30,000 crore.
The real estate business was at its peak then and this company was valued at Rs 1.43 lakh crore in January 2008.
Unitech was a highly profitable firm and raked Rs 1,669 crore in profits on a revenue of Rs 4,280 crore in 2007-08.
The company also had reserves and surplus of Rs 3,275 crore.
By 2009, the real estate sector had started declining. Unitech had by then bought 14,000 acres of land across the country.
To bankroll these purchases, the company planned to raise $1.5 billion by listing some assets in a real estate investment trust in Singapore and another $1 billion from investors.
Before the company could make the first moves, the markets went into a tailspin and all plans to raise money got shelved. Unitech ended up with debts of thousands of crores.
The stock price is down from a peak of Rs 547 in January 2008 to Rs 7.69 as of Tuesday, December 12, 2017.
On Friday, the market values the listed entity at just Rs 1,906 crore. With their stake of 17.92 per cent, promoters' share is valued at Rs 341 crore.
The BSE data shows promoters have pledged shares worth Rs 248 crore as of March 2017.
Unitech is said to own Rs 7,800 crore to 16,300 homebuyers across its 61 projects. The company is also saddled with a high debt of over Rs 6,700 crore.
The company's consolidated income stood at Rs 1,795 crore in FY17, leading to a loss of Rs 402 crore.
Of the consolidated income, real estate brought Rs 1,206 crore, while the revenue from transmission tower business stood at Rs 357 crore.
The property management and hospitality divisions contributed Rs 134 crore and Rs 37 crore, respectively.
The Chandras did not take a single rupee as remuneration last year, according to the annual report.
The report also said given 'depressed market conditions', the company had focused on project delivery against launch and sale of new projects.
"The company is continuously engaging with all the parties concerned -- customer groups, banks, local authorities, contractors, etc, to put in place mechanisms to ensure unhindered progress of projects and reassure them of its commitment to delivery," chairman Ramesh Chandra said in the report.
The firm sold 74 acres of land in June this year for Rs 260 crore.
During FY17, Unitech delivered 5.18 million sq ft of completed area and said 67 per cent of the projects are in handing over/finishing stage across various regions of the country.
A total area of 33.16 million sq ft was under development as of March 2017.
Despite the adverse conditions, handing over in 56 projects across regions is in progress, the company said.
There are multiple cases against the company for non-delivery in various projects.
Photograph: Pawan Kumar/Reuters.