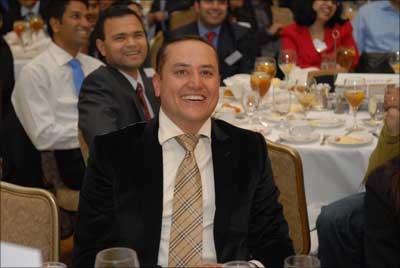 Hotmail Founder Sabeer Bhatia's Sabse Technologies, the owner of the web conferencing site Sabsebolo.com, has acquired the struggling Jaxtr, a company that lets PC users make free international phone calls. The amount paid for the acquisition has not yet been disclosed, but reports have said that Bhatia paid 'just peanuts'.
Though the company claims to have 10 million users in 220 countries, in October 2008 Jaxtr laid of 30 per cent of its employees and fired its high-profile CEO, LinkedIn co-founder Konstantin Guericke.
Jaxtr, supposed to be 'Skype on steroids', debuted in 2005 with a lot of positive buzz, securing $20 million in funding from high-profile venture capitalists like the Mayfield Fund, Founders Fund and Tenaya Capital, to name a few. Three of its investors were original Skype investors.
But the company hasn't yet found its feet, drifting from 'social networking widgets' to 'Cafe Jaxtr', and everything in between. Today, it claims to seamlessly meld SMS, global calling and social networking. 
Bhatia, who famously founded Hotmail, created Sabsebolo with well-known entrepreneur Yogesh Patel. The pair had earlier worked together on Arzoo, an India-oriented travel site.
Reports say that Jaxtr will continue to operate under its own brand name, and that Sabse expects to expand Jaxtr services. Ostensibly the acquisition will help SabSe by giving it access to Jaxtr's existing architecture and infrastructure, along with its purported 10 million strong user base.
"Jaxtr's consumer services complement Sabse's Service Message Book (SMB) portfolio perfectly," Sabeer Bhatia was quoted as saying.
Image: Sabeer Bhatia, co-founder, Hotmail; and founder, Arzoo at Wharton India Economic Forum on March 21. Photograph: Paresh Gandhi