The Hospitality sector isn't showing any sign of recovery. The sector is nowhere near the growth it saw between 2004 and 2008.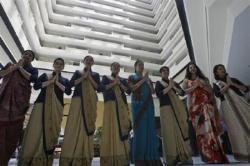 It continues to be plagued with sluggish demand, even, as supply has remained strong. The second quarter continued to show this trend as costs have stayed elevated while occupancy rates and average room rates have continued to decline. One of the biggest issues facing the premium segment is overcapacity.

Like most other listed hospitality companies, Indian Hotels (the Taj group), has reported abysmal second quarter numbers.

On a standalone basis, the company has seen revenue expand by six per cent to Rs 379 crore (Rs 3.79 billion).

Net profit has been impacted by numerous factors, ranging from foreign currency fluctuations to commissioning of new projects and low tourist arrivals in the off-season.

The company has reported a loss after tax of Rs 6 crore (Rs 60 million). Sluggishness in the domestic market is a key contributor to the weak performance.

Analysts say the total number of rooms in the country has gone up to 163,038 in 2011 from 140,000 in 2007.

During the same period, average room rates have declined as the global economy went into a tailspin in 2008
and foreign tourist arrivals started slowing.
The traffic hasn't meaningfully picked up yet. Foreign tourist arrivals grew a modest 2.6 per cent in the September quarter.
Earnings of top listed companies in the sector have seen their net sales either contract or grow at an anaemic pace of three per cent.
Hotel Leela's net sales grew 35 per cent year-on-year to Rs 132 crore (Rs 1.32 billion) in Q2. The company has posted a net loss of Rs 92.5 crore (Rs 925 million) as interest costs also pinched and operating margins in the quarter collapsed to 7.7 per cent from 10.8 per cent seen in the previous year.
Additional supply in Delhi has also impacted demand and average room rates. The story is no different for EIH (the Oberoi Group), which saw overall sales growth of 2.6 per cent and its hotel business declined 1.8 per cent.
Occupancy rates are down to 55 per cent for the chain and margins have sharply come off.
Elara Capital says: "Higher expenses and de-growth in topline have hurt Ebitda margin significantly, down 1,145 basis points y-o-y to 0.8 per cent. These margins are the lowest in the past five years and significantly lower than those recorded post 26/11 closure of Oberoi Mumbai." Margin recovery is a long way off.